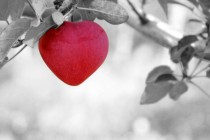 Love and fruitfulness.
The pact of conjugal love between the two spouses opens itself "by its nature" to fruitfulness; it expresses itself both through the generation of children, and – when God grants his great gift – through adoption and custody and also to the generous service of the poor and the outcasts (AL cap. V).
The Pope writes:
"The child who is born 'does not come from outside as something added on to the mutual love of the spouses, but springs from the very heart of that mutual giving, as its fruit and fulfillment'. He or she does not appear at the end of a process, but is present from the beginning of love as an essential feature, one that cannot be denied without disfiguring that love itself. From the outset, love refuses every impulse to close in on itself; it is open to a fruitfulness that draws it beyond itself" (AL 80).
The fruitfulness of the family overflows spontaneously on society:
"By their witness as well as their words, families speak to others of Jesus…and they show the beauty of the Gospel and its way of life…by their witness of fraternity, their social concern, their outspokenness on behalf of the underprivileged, their luminous faith, and their active hope. Their fruitfulness expands and in countless ways makes God's love present in society" (AL 184)
(Comment by Jesus Moran at the meeting of the New Family Secretariats held in Castel Gandolfo from 3 to 6 November 2016)