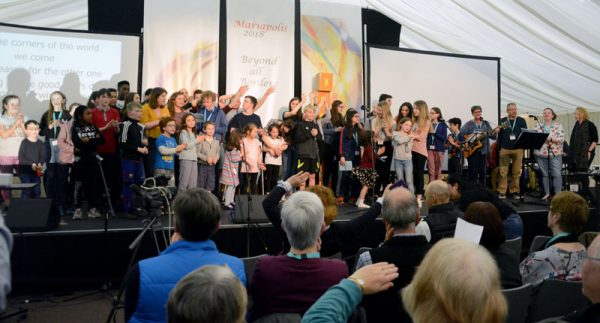 My birthday was approaching and I was dropping hints for a cordless chainsaw when my wife mentioned that this year's Mariapolis was on the theme of "Beyond All Borders" and suggested that we go to Ampleforth to attend it. Well, that was my first hesitant 'yes'.
We set off in the sleet and snow and left winter behind as we headed into spring in more ways than one.
Ampleforth Abbey is set in the lovely Yorkshire countryside and we were met there with warm welcomes from people whom I had not seen in many years. Of course changes had taken place over the years. Some grey hairs (or winter blonde as my wife likes to call them) and small children who had become young adults since my last Mariapolis.
From day one, I could see the care and attentiveness for all, whether 4 or 84 years old. The acts of love were all around from the men and women who ferried the infirm and elderly to different places or to the young girl who held the door open for everyone … and I mean everyone. The atmosphere soon swept me up and it was not long before I started to join in.
In the hall we listened to experiences from young and old alike. The focolarini, who have devoted their lives to literally going 'Beyond all Borders', not only inspired with their words but also with their presence. Love shone from their faces. Then there was a talented young man sharing the 'rap' he had written about his experience of building with Eastern European Roma. We listened to a group who pulled together as one 'family' to help another family threatened with deportation and the 'coincidences' that happened along the way.
Our trips out were more about the journey than the destination and they gave me the opportunity to meet new friends and build with them. It was also the chance for others to share their knowledge of and passion for York Minster or the apple trees used for cider making in Ampleforth or even small trains.
My spirits were lifted by the energy, love and commitment of the young people whether they were 'human climbing frames' for the very young or sharing their creativity in song or dance. Their animation lifted you to another place.
What did I take away from this Mariapolis?
Nothing, absolutely nothing! I rediscovered the importance of Jesus in our midst again (cf. Matt 18:20). For him, I have to make myself totally empty and to be there for the person in front of me at any moment in time. To go 'Beyond all Borders' I have to leave myself behind, empty myself, become 'nothing' to make room for love.
So there you have it. I never got my cordless chainsaw but the gift I received was the greatest gift of all.