This Sunday (16th July) 21 young people aged 15-17 from England, Scotland and Wales along with 5 leaders will head to Eastern Europe to take part in youth project called HombreMundo translated as "world person". The Eastern European Workshop is part of 40 HombreMundo workshops across 20 countries in the world taking place this July.
Our group of young people from Great Britain will have a week's training in Serbia before putting into practice what they have learnt in a week's social action in Romania. This structure of learning and action is beautifully captured in the theme for the week: "Head. Hands. Heart."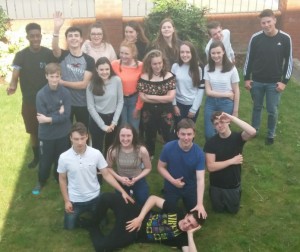 A few weeks ago, the group gathered in the Centre for Unity in Welwyn Garden City to prepare for this HombreMundo experience. They shared their hope for the trip with us. Maisie-Grace Elliott said she was looking forward to: "the food, overcoming the language barrier and experiencing a new culture." Pietro Piccirillo hopes to "get to know the people and understand the culture." The training week in Serbia will do just that; challenging young people to build fraternity where there is diversity through discussion, sharing of experiences and reaching out. This project is not only about thinking; it is about action. Sam O'Connor looks forward to "working together" with all the people at the HombreMundo workshop. The 650 participants will be asked to work together to plan and formulate their way of building peace and solidarity in the world.
The social action project in Romania will be the chance to see their planning in action. Innocent records her hope that: "we are going to have a positive impact on people's lives." Our young people will be involved in a project to keep parks and public spaces clean, as well as project where they will work with, and get to know Roma children. Brigid Ray sets out that it will be an experience of "uniting together" in order to "help out a community." She is confident that "not only will we able to spread love, but we will also make friendship that will last a lifetime." Joe Rawcliffe concluded: "we will show that there can be that 'one world' person!"
The first week of training involves:
Experience first-hand fraternity with others regardless of their language, religion or culture etc.
Exploring through discussion and the sharing of personal experience ways to better understand and reach out to persons of different ages, culture and religion
Discussion of how young people can contribute to building peace and solidarity
Learning how to undertake social action in a non-paternalistic way
The second week of social action involves an engagement in social activities in Romania, including:
A project to keep parks and open spaces clean
A project with Roma children.
You can keep up to date with our group on Instagram FocolareGB and on our Facebook page or here http://www.teens4unity.org/en/cosa-facciamo/uomo-mondo/