What's On:
Starting on May 1st there will be a daily #daretocare challenge campaign to increase our care for the environto follow.ment. We will be asked by a group from the Focolare and our friends from the Islamic Unity Society (IUS) and the Ahl al-Bait to undertake a challenge for the day and post onto social media… more details here
As we near the May 1st kick off there will be information regarding the events on either the international platform: http://www.unitedworldproject.org/en/uww2021/   there are already details of many events in English here or the Focolare Facebook page. Here below is a "calendar" for the week with details of some local events and a selection of international highlights. There are many more on the international platform, and more local information will continue to be added so keep an eye on the websites and social media!
Saturday 1st May,
8 pm – Gen Verde Concert " A time for Change"
 Sunday 2nd May
From 11.00  to 12.00, in every time zone there will be a virtual "Run4unity", a non-stop sports relay race with games, challenges, testimonies and commitments, to symbolise a rainbow of unity and pe
Wednesday 5th May, 7.30-8.45 pm
Dialogue – the challenge of Social Media. Watching the Netflix documentary "The Social Dilemma" would be excellent preparation for this session.
Please register by contacting Elisabeth Hachmoeller
Elisabethhachmoeller@gmail.com
                                                Thursday 6th May, 6pm – 7 pm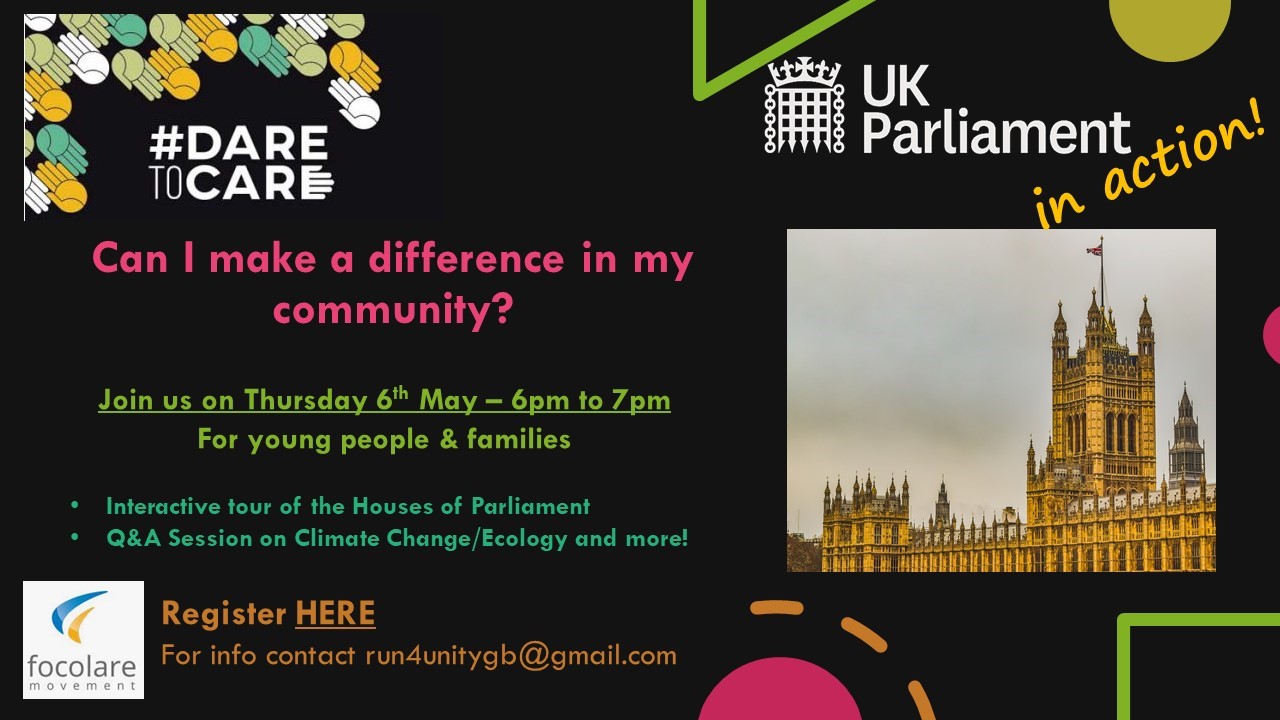 Online visit to the houses of Parliament for young people and families.
Link for Registration:
https://forms.gle/dynbS99E5RKiqdeP9
 Friday 7th May
Many online events to choose from.
Details :http://www.unitedworldproject.org/en/events/dare-to-care-international-convention-2021/
Saturday 8th May,
11.30am – 12.30 pm
Local #daretocare actions in groups of 6  including
Litter picking in Welwyn / Hatfield / West midlands
Park clean up in Roby (Liverpool)
8pm – Gen Rosso concert