The debate, to take place at the United Nations Headquarters in New York, is an initiative of the current President of the General Assembly, Sam K. Kutesa; Secretary-General, Ban Ki-moon; and UN High-Representative for the Alliance of Civilizations, Nassir Abudlaziz Al-Nasser. The event will be an opportunity for the 193 Member States and diverse stakeholders, including faith leaders, to address key issues and challenges relating to the promotion of tolerance and reconciliation and share concrete experiences on how to counter the forces that fuel polarisation and radicalisation.
This high-level debate is seen as a key contribution to the post-2015 development agenda where tolerance and reconciliation will play a critical role.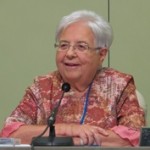 Focolare president Maria Voce has been invited to contribute to the panel debate on the second day which will be chaired by BBC's Laura Trevelyan.  Day 2 will focus on interfaith dialogue, featuring high-level statements and interactive panel discussions with faith leaders on community engagement aimed at countering violent extremism. It will also focus on the role of faith leaders in promoting tolerance for diversity, freedom of expression and human rights. In addition, they will address how faith leaders can influence government policy and social norms.
Other panelists include Abdallah bin Bayyah, president of the Forum for Peace in Muslim Societies; David Rosen, international director for interreligious affairs of the American Jewish Committee; H.H. Samdech Tep Vong, Great Supreme Patriarch of the Kingdom of Cambodia; Beatriz Schulthess, president of the Indigenous Peoples Ancestral Spiritual Council; and Bhai Sahib Mohinder Singh, chairman of the Guru Nank Nishkam Sewak Jatha.
Focolare has warm relations with Sikh leader, Bhai Sahib Mohinder Singh, and is currently working together with his Sikh community on a joint interfaith project with the Catholic Archdiocese of Birmingham to involve 160 young people in an innovative performing arts project in early December 2015.