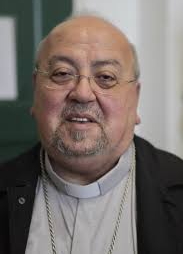 A large group of Catholic Bishop-friends of the Focolare are currently having their convention on March 7-12 at the Mariapolis Centre in Castelgandolfo (Italy). They come from a significant collection of countries, including a good 26 from African and the Middle East. Among them is also Maronite Archbishop Samir Nassar from Damascus whom was asked to tell us about his country.
Archbishop Nassar, after six years of war, what does Syria look like today?
It's an immense site of ruins. Apocalyptic scenes – burned out buildings, homes burned to the ground, ghost towns, villages razed to the ground. More than 2 million Syrians (50% of the population) don't have a roof over their heads. Many Syrians – in the millions – have left their country, forming the largest mass of refugees since World War II. And now they're stuck in refugee camps waiting for someone to notice them. Others drowned escaping, or are lined up in front of embassies like nomads in search of a country to that will take them in. Life for Syrians, wherever they may be, has turned into a torment. The family, the cornerstone of the Church and of the nation, is seriously shaken. It's now rare to find a complete family, and the few that have stayed are completely deprived of support, buried in misery, in anguish and depression. Fiancés can't marry because they're separated by the mobilisation of the military, and the lack of housing does the rest. Their future hopes have all crumbled.
In your opinion, who are the most vulnerable?
The children are the ones who are most at risk. They are paying dearly for this merciless violence. UNESCO reports that more than 3 million Syrian children are not in school, which is also due to the priority of staying alive. The few schools that are operating are over-crowded, and the level of instruction is suffering because of the exodus of teachers. The psychological support centres are hopelessly overwhelmed by the huge numbers and by the types of psychological blocks that that mostly the children suffer from.
One of the concerns for the Church is the exodus of Christians…
The parishes are reporting a drastic drop in the number of faithful, and of pastoral activity. The Church of Damascus has seen one third of its priests (27 priests), a hard blow that weakens even more the declining role of the Christian minority. The priests who stay don't feel safe and try to find ways to leave. Meanwhile, they offer themselves as socio-humanitarian workers for families.
What is life like for Syrians today?
Syrians don't run after freedom anymore. Every day is a struggle to find bread, water, gas and oil that are becoming scarcer and scarcer. The frequent and prolonged electrical outages bring melancholy and dwindling social life. The search for scattered brothers and sisters, parents and friends is done discretely and in much distress. Finding a small dwelling place, any kind of refuge for living in has become the impossible dream of every family, especially young couples. The Syrian people is living this torment in great bitterness, which can be seen in the silent gazes and the tears. Lent 2017 offers all of us an opportunity for profound reflection on the commitment of the Church that wishes to be beside our faithful in the trial of this journey towards the Risen Lord, who said: 'Come to me, all who are burdened and oppressed…" (Mt 11:28).
What urged you to get yourself to this meeting with other bishops?
Ever since 2008 I found in the Focolare a type of listening and dialogue that helps me to accept my episcopal solitude and physical isolation in a country at war. In these gatherings at Castel Gandolfo I experience a discreet, respectful fraternal acceptance, an atmosphere and spiritual tone that nourishes my soul and confirms the spirit. An oasis of friendship, of mission and of renewal.