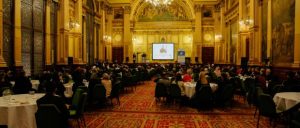 On November 6th, Archbishop Emeritus Mario Conti and members of The Bishops' Conference of Scotland Committee of Inter Religious Dialogue met with Dr. Mohammad Shomali, Director of the Islamic Centre in London and Azzam Mohamad, Director of the Ahl Al Bait Society Scotland.
The discussion focused on education. Archbishop Conti spoke about Gaudium Spes – "the Church in the modern world". This encyclical,written by Pope Paul VI in 1965, speaks about peace building in every sector of society and about the dignity of the human person.
He was followed by Dr. Shomali, who said "Education is in everything we do. We must prepare the youth for a new world in the way we relate with one another.  We need to work together and to receive guidance from the Holy Spirit.  We need unity of all traditions.  Our presence here is to demonstrate our unity, we come here with an open heart, we want to work together for unity." 
Then a very lively dialogue followed, covering the shared values held by faith schools. There was a common urge to work together and to study issues relevant to Christianity and Islam, particularly the direction of education on sex and relationships.
The First Minister of Scotland, Nicola Sturgeon, was one of the key speakers at the 5thAnnual Peace and Unity Conference at The City Chambers, Glasgow, also on  November 6th.
This event is sponsored by Ahl Al-Bait Society (Scotland) in collaboration with other faith and community groups and aims to bring eminent figures from political, academic, civil, religious and activist backgrounds to a platform of dialogue and hopefully greater and inclusive networks. Other key speakers were the Rector of the University of Glasgow Aamer Anwar; the deputy chief constable for local policing DCC Will Kerr, Dr. Mohammad Shomali and others from different backgrounds from across UK.  Each one gave a short speech followed by an interactive exchange with a panel of 4 from diverse fields of work.
Alison Phipps holds the UNESCO Chair in Refugee Integraton through Languages and the Arts and a fellow of the Royal Society of Edinburgh.
Shaykh Hassan Rabbani is the Imam of Annandale Mosque in Edinburgh, Founder of Zainab Cobbold Institute, an initiative to promote education in Glasgow.
Aqeel Ahmed is currently a member of the Scottish Youth Parliament
Naira Dar is the Equality & Organisational Development Consultant at University of West Scotland
They were all excellent. One of the themes was education for the most vulnerable, and a young person with autism who spoke very powerfully received a standing ovation from the audience of 300 people. Members of the Focolare community in Scotland were happy to meet up with friends and 'family' from Ahl Al-Bait, joining together to go out to build new networks for collaboration and change.