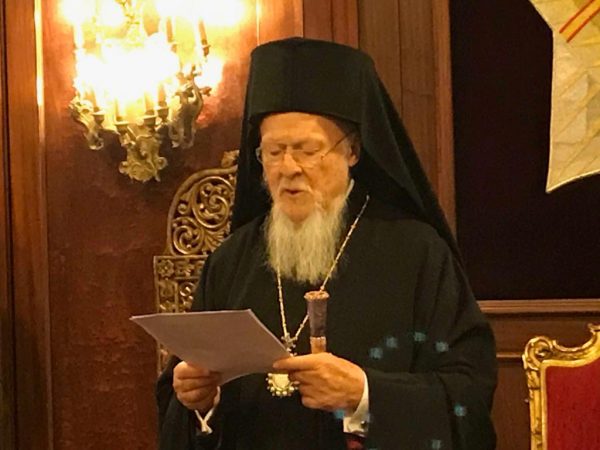 "Continue on the path you've taken on the way of dialogue, because it is reconciliation, true encounter, the ability to understand, divine philanthropy, welcoming others who are different, transfiguring the world, and welcoming God into human history. Bring this message to all those at all levels who participate in the work of your institute, with a fraternal embrace to Focolare Movement President Maria Voce, and all our brothers and sisters in the movement. The ecumenical patriarchate is your home as well, this city of Constantine is your city as well, because you are not foreigners, but friends."
This was the final greeting that Ecumenical Patriarch of Constantinople Bartholomew I gave to 30 professors and students of the Sophia University Institute (Loppiano), who are from a number of countries. Together with the institute's director, Mons. Piero Coda, they had traveled to the patriarch's residence at Phanar (Istanbul, Turkey).
The visit of the Sophia delegation to the ecumenical patriarchate was from January 8–12. It was promoted by the Patriarch Athenagoras-Chiara Lubich International Ecumenical Chair, which had been established after Patriarch Bartholomew received an honorary doctorate on October 26, 2015. It was established "to remember and restart the prophetic spirit that animated the extraordinary harmony of heart and mind between Patriarch Athenagoras I and Chiara Lubich, just before the Second Vatican Council and the historical meeting between the patriarch and Pope Paul VI."
The academic trip included, among other things, together with the audience with the patriarch, a meeting with Metropolitan Gennadios Zervos, who was in Istabul during that time for the Holy Synod. The group also met with Metropolitan Elpidophoros of Bursa on January 10, at the Monastery of the Holy Trinity on the island of Halki, Turkey. This meeting opened up productive possibilities of cooperation between the seminary and Sophia University Institute, including a summer school that will probably be held in late spring 2020.
The visit was particularly significant in this fragile, tense moment that the Orthodox world is going through today. It is aiming once again to call for a commitment to tenaciously pursue a path of mutual understanding, and a reciprocal exchange of gifts to promote fraternity and communion.