In many respects it was a minor miracle that the venue was available – so perhaps a sign that this event was meant to be.
The programme was developed by the local community in the South Wales and Welsh border area, linking with the focolare centres in London. It was clear that 'dialogue' should be an important focus – at a time when it seemed more important than ever.
So, what happened? It was true to say that there was so much that could not have been planned for. Many people had difficult travel journeys on the Friday, and yet everyone came ready to put that aside and to start building unity. The young people – about 14 of them, of ages 5 to 16 – all came together as one group, and really set the example.
The sessions on both days had a great spiritual intensity – and were very much from the heart.
Truly there was co-production, with the Holy Spirit an unseen but very real presence for the time together, summed up by one participant as:
'The sense of family and working together and the experiences of dialogue which were very moving and very strong, and inspiring what should be done to bring this dialogue forward'
'The preciousness of being a family & part of this splendid Ideal. However, also the sense of obligation to be responsible to do my small part (a drop) to bring about unity in the world'
'Discovering that wherever you are in the world, it is possible to experiment seeing Focolare people springing from places you wouldn't imagine, with this ideal of unity. Simplicity of means and people, but such deep, great reflections and sharing! So huge things happen when people meet in the name of Jesus'
The atmosphere of hope. Will take away the different way of relating to people with humility, seeing Jesus, listening to the reasons underneath their behaviour to achieve real unity'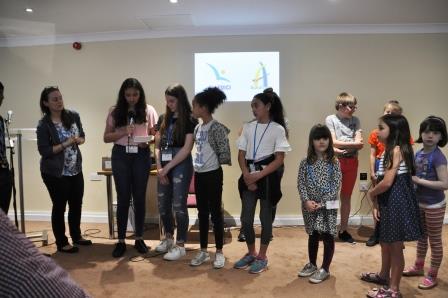 Some acts of love of the little ones:
I tried to help 2 ladies trying to figure out how to get hot water from the pitcher
I made people smile by talking to them
I was good and patient with my mum