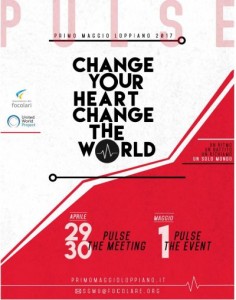 The title is provocative: "Change your Heart. Change the World". That is, begin with your own heart and change the world around you.
The Meeting is conceived as a journey of discovery of the thousands of actions in which the Youth for a United World are already committed to building a future of peace in the most various areas, along with other movements, associations, and groups, including: Nuovi Orizzonti, Rondine, Centro internazionale La Pira, Non dalla guerra, Living Peace, Istituto Universitario Sophia, Dancelab, EcoOne, Economia disarmata, Barbiana, and Sportmeet.
Actions, good practices, and "seeds of fraternity" that we too, under the form of United World Project, have been helping to collect and integrate into our network since 2012.
The Meeting will offer young participants many opportunities for encounters and reflection, to learn, get to know each other, and plan together. They will also hear many testimonies from all around the world: Syria, Ecuador, Egypt, Jordan, Lebanon, and Iraq.
We would like to highlight four interesting workshops, dedicated to topical issues: hospitality and integration; social commitment; arts and peace; peace and nature. In addition, three forums for further exploration of the following topics: peace and religious traditions, economy and politics, and education to peace.
At the end of the meeting, and as an official opening of the United World Week 2017, we will experience, once again, the historic event of Primo Maggio, which has been a regular appointment for many young people since May 1, 1973. They will be coming from over 40 countries, joined together to show everyone the real "heartbeat" of humanity: the numberless actions of peace and brotherhood that fill the lives of individuals, groups, and peoples. Ideas expressed in music, choreography, words, testimonies, and moments of dialogue on politics, economy, art, religion, culture, and social commitment in favour of peace.
This is the way the United World Week will start off: during the last twenty years, the event that gathers young people from all around the world who are committed, through actions, rallies, conferences, and cultural debates, to have an impact on public opinion in the host countries, and to witness together that a united world is possible, thus leaving a tangible sign in the cities and institutions involved.
Another important part of the meeting will be Run4unity, a worldwide relay race for peace to be held on May 7 everywhere in the world, animated by the Teens for Unity.
#4peace