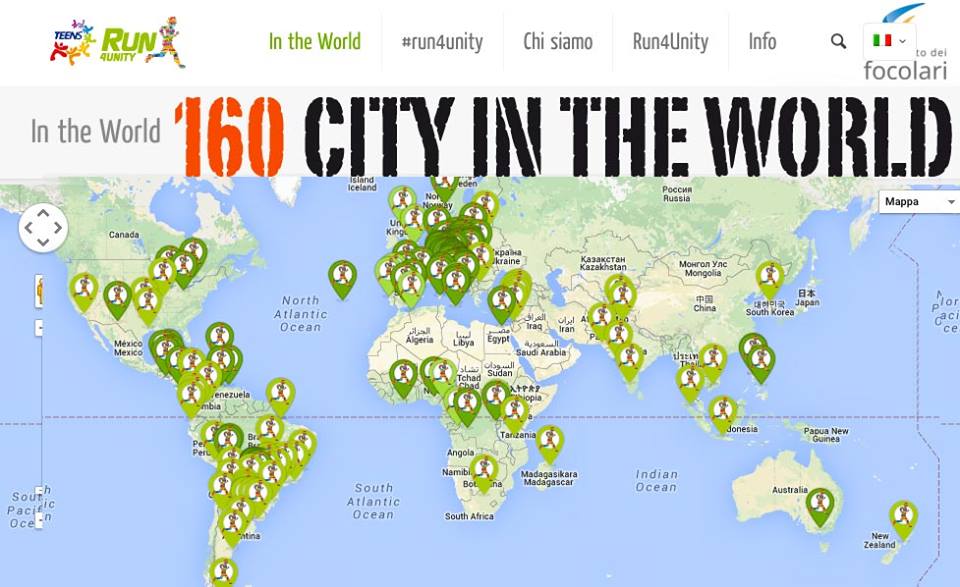 One video from the Teens for Unity in Syria shows how they are keeping hope alive in their battered country. It will be viewed by their peers in other countries, who are equally committed to bearing witness with gestures of fraternity, towards the building of a peaceful present.
In the UK the young people in London and Glasgow will be joining, for example, the youth in Slovakia who are heading to Ukraine, just outside Mucachevo: "Even though the war is underway in another part of the country," they write, "here you feel the great economic crisis and atmosphere of hopelessness." A small group will go to Kiev in support of their Ukrainian friends.
In Bethlehem, a city of peace, Christian and Muslim teenagers from Bethlehem, Nazareth and Haifa will run together. They will take off from Nativity Square: "We'll announce to Mayor Vera Baboun and the people we find there, our commitment to living out the Golden Rule in order to build fraternity."
In Arequipa, Peru, 2,300 metres above sea level, a chain of solidarity will be unleashed. Each teenager will take foodstuffs and school materials to two centres – one for abandoned children and the other for children with disabilities.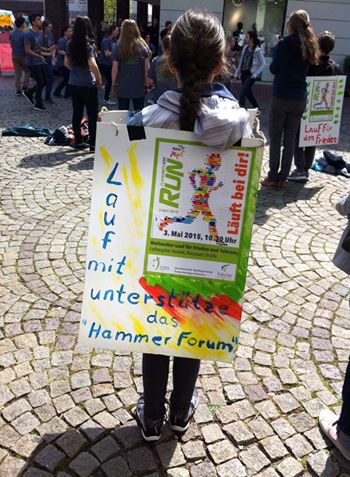 The group from Wellington, New Zealand, will be the first to run; and Los Angeles, USA will close the event. In Malta, the race will be opened by the President of the Republic, M. Luise Coleiro Preca.
Some symbolic sites along the race course include the Statue of Liberty on St Gellert Hill, in Budapest, Hungary. In Cochabamba, Bolivia, the teenagers will climb to the feet of the statue of Cristo de la Concordia where it is written: "That all may be one." In Trelew, Argentina, a peace mural in the centre of town; and in Houston, Texas, a food collection for refugees. All the activities in the Southern Cone and Brazil promise to be colourful and have a strong social imprint.
In Kaunas, Lithuania, and in Hamm, Germany, there will be interreligious events. Sponsored by Mayor Thomas Hunsteger-Petermann, the Run4Unity in Hamm will include a "Reli Rally" that will link several places of worship around the city, including a mosque and a Hindu temple. The Bahai teenagers will grab crowd's attention with a flash mob. Together, they intend to raise contributions for a local social project that helps children from war-torn countries (www.hammer-forum.de). In Goma, Congo, Christians from different Churches and Muslim teenagers from around the city will take part.
All the events will be linked by a moment of prayer for peace, the "Time-Out," offered every day at the noon hour of the different time zones. The teenagers will join together in prayer for all teenagers who live in situations of suffering, the victims of the recent earthquake in Nepal, the teens living in war zones, and those who have had to flee their homelands.
Run4Unity will also be racing through the social media. With the hashtag #run4unity, all the links of peace and unity that are being built or rebuilt, can be shared with photos and videos that will be placed on the event's website: http://www.run4unity.net/2015/.
Run4Unity will take place during United World Week 2015. This year's title is: "Discovering fraternity" as a way to promote peace at all levels of society. This year's main event will be held in India.