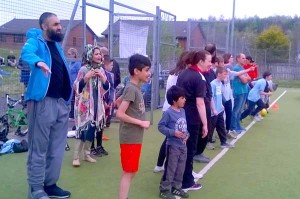 Run4Unity in Glasgow took place in collaboration with St Angela's Participation Centre (SAPC) in the south side of Glasgow. SAPC is a voluntary group set up three years ago with the aim of ensuring that every young person in the local community has the opportunity to take part in free sports. In this way SAPC is helping to embrace diversity and improve the lives of young people and their families.
SAPC's founder, Tom Buik, welcomed the opportunity to be involved with Run4Unity. The afternoon began with young people of the Focolare explaining the vision and purpose of Run4Unity, pointing out on a map all the parts of the world where Run4Unity was taking place and encouraging the fifty or so boys and girls to live the Golden Rule in all the activities of the afternoon.
Those participating included friends of the focolare youth and their families, a group from St Roch's High School and young people who already take part in SAPC activities. Highlights included a race of young people and adults together, receiving messages from Run4Unity in Romania and eating freshly made samosas and cakes.
The attitude in everyone was one of wanting to meet and welcome others. Alongside the sporting activities lots of conversations were happening in which connections were being made and the joy of simply being together was evident. At the end of the afternoon as everyone was helping to clear up, the question being asked by children and adults alike was "When and where will Run4Unity be happening next year?"
See what happened in the rest of the world. Check it out on Facebook also