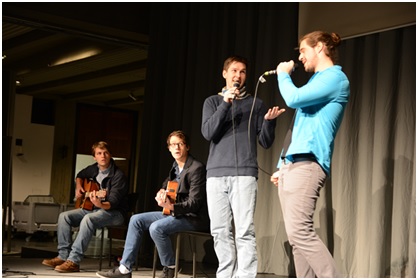 An enriching evening of classical, dance, pop, contemplative, jazz, a musical and a buffet.
The fourth edition of the benefit concert was promoted by the Focolare's Youth for a United World in Vienna and by young people from Mor Efrem of the Syro-Orthodox community. Two hundred people showed up in spite of the freezing night temperatures of December, to support Syrian refugees.
The "Singing Voices Choir" comprised of young people that included some Spanish speakers wished everyone a "Feliz Navidad" with song and dance.
David Watzl presented Aktion Weitblick, a project that offers aid to refugees inside Europe and on its borders. He had spent two weeks at a refugee camp in Turkey where, with a group of volunteers from Aktion Weitblick, he organized afternoon games for children, classes in hygiene and many other activities.
The Ishtar Syrian Dance Group brought the concert to a close with lively eastern dance that got the whole audience moving. Afterwards, a tasty buffet provided an opportunity for actors, visitors and refugees to mingle and know one another, and to plan future projects. The evening ended in a warm and fraternal atmosphere.
Compiled by Young for Unity, Vienna, Austria