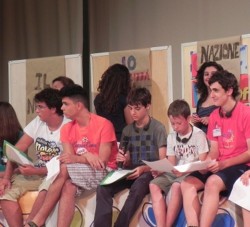 The weeklong social camp to encourage future social innovators takes place from the 14th to the 20th July in O'Higgins where the Irish group will join 500 teenagers from all over the world and learn how to build unity among people and promote human rights and intercultural co-operation.  During the second week the Irish group will have the opportunity to put the skills learnt at the 'lab' into practice as they work with deprived children in schools and hospitals in Paraguay.
Last weekend (22nd/23rd March)  a group of  20 Irish young people from Youth for Unity, the youth branch of Focolare, met in at the Focolare Centre, Curryhills to prepare for the much anticipated trip to Argentina and Paraguay.
The weekend – which coincided with the 'New Families'  weekend – was home to a wide range of presentations and conversations as the young people and those who will accompany them, looked at the road-map of the trip – which will last from July 11th until July 29th.
Donal Boyle – one of the young people – talked about Argentinean culture with a wide-ranging presentation which covered sport to currency and everything in between!
Another traveller, Natasha O'Brien, reviewed the book by Susan Gately about an Argentinean pioneer of Focolare in Ireland, Lieta Betoño.  The book,  Like the Sunshine tell her story – growing up in Argentina, and then the thirty years she spent in Ireland sowing the seeds of the Focolare spirituality here. "In every sentence of the book you find another Act of Love," remarked Natasha.  "It is this love that we anticipate as we travel to see love in action in the home-country of one of the pioneering figures of the movement."
The second week of the project, the Irish group will be in Paraguay.  "We learnt it is a nation characterised by:  'very friendly people and great music'" said Conleth Burns.
Hannah from Trocáire helped prepare the teenagers for the trip explaining how it would  reflect and realise Pope Francis' challenge: to become agents of God's mercy.
UCD chaplain, Fr. John McNerney explained how Focolare founder, Chiara Lubich,  believed a new business philosophy could solve poverty, where  the "I think therefore I am" philosophy of Descartes was transformed into  Chiara's vision of  "I love therefore I am."
The weekend ended with all participants giving their full yes to the project – the flight to South America has begun!
Watch this space for future updates.
Feature picture shows Mariapolis Lia, O'Higgins, where the Unity Lab in Argentina will be taking place.