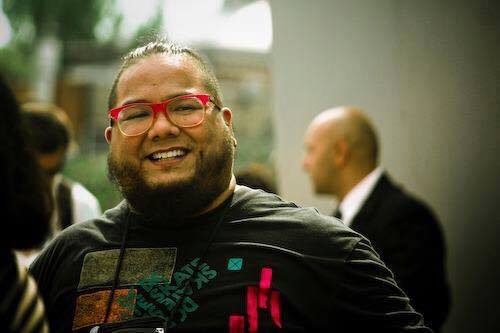 He was a graphic artist, who left his mark. He had a preference for masters such as Michelangelo and Gaudì, and was precociously talented in free hand. He created his own personal style based on his knowledge of the grand masters from the past.
Emmanuel, who was known to everyone as Noel, worked closely with the young people from his city, bringing his brightness, inventiveness and creativity the preparations of the 2018 Genfest that will bring together 10,000 young people from around the world. On September 2nd he fell asleep and never woke up, due to sleep apnea. More than an grown up, he was considered a peer by the teenagers and young people from the Focolare Movement in the Philippines who are now counting on his help to carry on. Grace, Paul, Lela, Paula, Edith and other friends of his write.
"He gave of himself without holding back and without expecting anything back. Always on the move from when he was a small child. At the age of two he attended his first Mariapolis and climbed the walls even during the meetings."
He was generous by nature. At the age of six he had given away a pair of shoes that had just been bought for him to a clothing drive for the victims of a wildfire that had devastated a certain region. When he was asked why he did that, he replied: "I saw Jesus in those people." During his early school years Noel met a lot of difficulty. When a doctor discovered the medical cause – a problem with his eyesight – Noel candidly confessed that he had never told his parents because he didn't want to worry them.
His family moved to another location, and Noel and his brother placed a poster on the front door, "Friends Wanted." Then they went knocking on the doors of their neighbours, trying not to be too pushy.
As an adult Noel was very esteemed by his colleagues and employers. He was simple-hearted and sociable, but also trustworthy and precise, respectful of work hours. He was forgiven when, because of a disorder he suffered from during the night hours, if he sometimes suddenly fell off to sleep and spilled his coffee on the keyboard of the computer. He was always available for the projects of the Focolare youth. Any time they needed a drawing or a project, he was always willing to place his talent at their disposal.
He was the drummer for a Gen band from the time he was a boy. He certainly wasn't the best drummer on the square and, when he was there, the band never worried too much about being perfect, but only about playing with their hearts. Agnes, from the band, recalls how, for him, the "togetherness" was what mattered and not so much making an appearance. He put the same attention into his relationships with people.
Noel arrived in Loppiano, Italy, for the Gen School in 2004. He was one of the few that had a driver's license and became the driver for everyone, even at night when needed after a long day of work. He became a point of reference for many young people when he went back to his own country. Whether or not he realized it, he encouraged them and motivated them not to give up, but to persevere, to hope and follow God. "When it comes to love," he would often say, "you need to give everything, especially when you're able to give it."
Noel was always at his mother's side, protective of his sisters and close to his brother even when he left the country. He never wanted to see unhappy people around him.
A friend, teacher and gentle giant. A person who's left his mark. That's Noel for us. He was 38 years old, but he didn't want to get old. Now he'll be forever young."