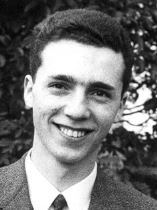 Born in Novara, Italy, the second child between two sisters, Aurelio Lagorio was two when his family moved to Uruguay. When he was 17 his family returned to Italy, and Aurelio remained alone in Montevideo for nearly a year in order to continue his studies.
He knew poverty there but never burdened his parents. It was during that year that he met some focolarini who had recently arrived in South America. They had come to speak at the hostel where he lived, and the ideal of unity won him over completely. From that day on his life would be a quick sprint on this adventure.
He realized he was called to follow Jesus, and wrote to a friend who had told him he was getting married:
"Thanks for your news. I too have great news, a very important step in my life. In a few days I will go to the Focolare's international school, leaving everything behind to find Everything: God, and consecrate myself to him for my entire life…"
He arrived at Loppiano, in Italy, in November 1965, when he was just 19. He had recently written to Chiara Lubich:"Despite my smallness, a bit of Him descended upon my soul and chose me to follow him, leaving everything behind, every affection, becoming poor for everyone in order to have Him and love Him and only Him.
"I am still quite young; I've just turned 19, and thinking of the years that I have ahead – I'm not sure how many – I felt in a new way that I need to live each moment as if it were the last of my life, with all my soul and strength. I felt that the only thing that I needed to do was live the Ideal and that's it!"
At Loppiano he worked building the roads, in the kitchen and tutoring. He did everything well. Everyone was inspired by his way of being, working and committing to what the will of God was asking of him in the present moment. He was given the fabric work to put in order, and he organized the rag sorting section, making the work more efficient, using an assembly line that made the process quicker and more profitable.
A focolarino asked him one day, "How are you managing to move so well at work, even though you don't understand it?"
"I'm not sure," he responded simply, "but you just need to love."
In an interview on Austrian radio, he explained: "Here our work is organized in small groups of four people each. In these groups we try to have reciprocal love among us as much as possible, so that each rag we work with can be an act of love. Before starting work, each day we declare our reciprocal love… which is then expressed practically in our work. Day after day we see that, in as much as we love each other, the work progresses and produces what we need, always in as much as there is love. By the end of the day, even if we're tired, what remains in us is only how much we have loved."
He wrote to his father, telling him a bit about what they were doing in Loppiano. "Here we're all well. We're always working and studying, doing everything for God. The day passes so quickly and in the evening we go to bed tired by really happy, with great joy in our souls. This is because we've tried to love each other as Jesus loved us, being ready to give our lives for each other. Even if this costs at times, because we need to continually die to ourselves."
After Chiara Lubich visited Loppiano, he wrote to her: "Dearest Chiara, this evening, as we heard that you were leaving for Rome, we wanted to give you a gift. We looked around our focolare for something, searching through drawers, in order to give you something of ours. We realised we had nothing, but then we looked at each other and understood! We had ourselves, our lives to give you. We told each other that what God most wants is that we give of ourselves completely – not just our joys, but especially our shortcomings, our weaknesses."
This unfinished letter was found in Aurelio's wallet when he was hit by a truck and brought to the hospital at Prato in a coma. When she brought the news to the other members of the movement of his unexpected death after the accident, Chiara wrote:
"Aurelio is and always will be a true fruit of Loppiano. His letters speak of the spiritual progress he made during his three years in Focolare. God gathered him and planted him here, so there is no better monument to him than Loppiano."