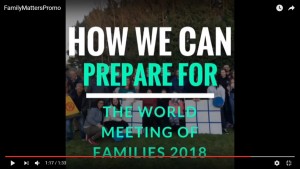 Keynote speakers at the event include Fr Tim Bartlett, Secretary General for the WMOF 18, Dr Lorna Gold from Trocaire and Susan Gately, author of 'God's Surprise – the New Movements in the Church'.
"We are really looking forward to this day," said Declan O'Brien from Prosperous. "The World Meeting of Families 2018 is going to be a momentous event for families in Ireland and throughout the world. But it will be more than an event – how we prepare for it and how we build on  it afterwards is just as important as the event itself."
A major feature of the Family Matters day, he said, would be the launch of the  'Family Cube'.
According to his wife Sarah, this is a very useful tool to "remind us of the importance of love in the family. Each face of the cube displays a Gospel based phrase.  Families role the cube every morning and try to live according to what comes out on top."
Some families are already rolling the Family Cube each day.  "Listening to the practical examples given by the children when they rolled the cube of love really warmed by heart," said Brónagh from Belfast. "Everyone needs a family cube in their homes, schools or indeed wherever they are."
The mother of three said that although the cube was small, it had "more power than you could imagine".  It has made me stop and think as a parent how to best live out the Gospel, she said.  "It has brought encouragement and hope along with much love – especially when my three boys are fighting!"
Like other families, they had their ups and downs, said Brónagh, but the seconds it took to roll the Family Cube "has certainly made us think and it allows us to be better people – to be that child of God and bring love and happiness to everyone we meet."
Family Matters begins at 10.30am at the Aula Maxima in Maynooth, and concludes with Mass at 4.00pm.  The daylong event includes  a special programme for children and teenagers and costs €10 for individuals or €20 for a family. Parking is free.
Sarah O'Brien encourages people to come and see for themselves " Everyone is welcome to this great family day as we are all part of a family! Let us know you're coming and email us at focolareireland.events@gmail.com or just turn up on the day with your packed lunch!
For more information ring 045-840410.