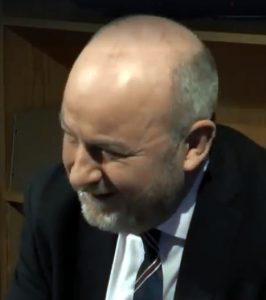 The Open Day will reflect on how we can contribute to the strengthening of a culture of trust and peace amongst people, in institutions, in local neighbourhoods, homes and faith communities.
In the morning session  an interview and dialogue with Brian Rowan – journalist, broadcaster and author of several books including Unfinished Peace
In the afternoon, after a reflection presented by Catherine Burke and David Hickey – coordinators of the Focolare Movement in Ireland – about the role of suffering in developing a true dialogue which builds community, examples of initiatives will be presented like the 4 Corners Festival, Embrace, a project in Burkina Faso Project and others.
One of the aims of the weekend is to be a springboard for positive initiatives in local areas whereby people can work together to serve those most isolated or on the margins of their communities.
Fr. Martin Magill, Catholic parish priest of St. John's Parish in Falls Road, will be among the speakers on Saturday afternoon. Through his experience he will show the beauty and the importance of meeting and sharing with Christians of different denominations. Rev. Anne Toland – Minister of Newtownbreda Presbyterian Church – will also contribute.
The Catholic Bishop of Raphoe, Alan McGuckian SJ will be the chief celebrant at a Vigil Mass at the end of the programme.
On Sunday morning (8th April) participants will be welcomed at the services of five Christian Churches of different denominations in Belfast.
Day visitors from Belfast and further afield are welcome for the Open Day at the Drama Theatre in Stranmillis University College.
Registration 9:30am * Morning session 10am – 1pm * Afternoon session 2:30pm – 5:30pm * Evening in the Students Bar from 8:30pm
Families are welcome. Separate programmes for children.
For further information contact Irene Jovaras 075 99422914