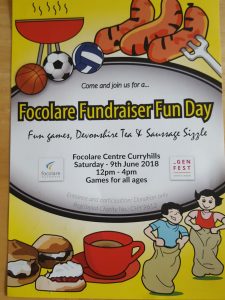 Dear friends,
we are a group of 17 young people travelling to the Philippines this July to take part in an international Congress called Genfest.
At this congress we will be having workshops and discussion groups with young people from all over the world who share our ideal of a united world. During these discussions we will talk about our social diversity and differences and our economic situations based on where we are living.
To make this trip possible we are having a Family Fun Day with refreshments in Curryhills, (Prosperous, co. Kildare) this Saturday 9th June, 12pm-4pm
We hope some of you can come!
It is donation only so no pressure on cost!