In El Espinal, a town in the province of Salta, Northern Argentina, 35 young people aged 18 to 30 from Argentina and Paraguay spent time together from 3 to 11 January, for a low-cost holiday but of "elevated levels of unity," as they called it. In fact, also the Pastoral for Tourism –Programme for the Development of Solidal Tourism of that region also signed up for this project.
This concerned firstly, living with the community and youth of the place, sharing their work in the tobacco fields with the beehive breeders and weavers, and also the typical difficulties of daily living in the countryside: cold water, lack of electricity, the mud that seems to seep through everywhere… The first point was: leaving behind commodities and prejudice.
The Golden Rule "Do to others what you would like others to do to you" expressed in a nutshell what the youth of the Focolare wanted to fulfill in that community. But how were they supposed to accomplish it? It was first of all through an infinity of simple acts of love, and then with a cinema forum, meetings, an excursion, moments of relaxation, eating, dancing and singing together.… But the message was conveyed also through theatre plays that showed how El Espinal would be if everyone lived this simple rule.
And who knows why this was so – perhaps for that reality "give and you shall be given" which always comes true – a competition of love triggered, where all gave their best. Maga recounts: "We will never forget how Pilar, a weaver, brought the best set of cutlery she had, to offer us a savoury soup, not to mention the ladies who set their chores aside to come and bake bread with us, and the enthusiasm of the boys and girls who fried doughnuts until late t night to make us feel at home. Then there were those who hosted us in their homes, giving us all they had to make us comfortable. There were so many new faces: and in each was Jesus who came towards us every time."
But the so-called holiday also had another objective, and this was to engage in a project to develop the Tourism Pastoral, which consisted in helping the population to see the touristic potential of their town. This was the main aim behind the organisation of activities that could later be transformed into concrete proposals for future visitors: trekking along the river, horseback riding, tractor excursions, and sight-seeing in the enchanting and hidden places of El Espinal.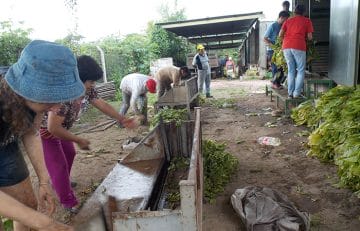 Among the breathtaking landscapes, sudden climate changes, the sun, animals and insects – at times not valued – everyone felt they could "feel God's presence and the embrace of his creation" and also the relationships established among the youth, which were really enriching. In short, they spent a different type of holiday in the beautiful province of Salta, while adhering to Pope Francis' invitation to live the Gospel in the outskirts.
Before returning to their cities, they expressed their impressions: "I learnt a lot of things: to be happy with the little we have and not to complain, and live the golden rule. I felt loved and welcomed. All has left a deep mark in me. It was the best way to start the year. Thanks to you all, I have come closer to God." Other impressions: "We shall leave with our hearts full of stories, experiences, their values, life, light and joy. I again discovered that if we live together for the others, everything else will come as an extra enrichment."
But also the local youth expressed themselves: "You are the best friends Jesus has given me." "You have filled us with smiles, joy and peace." Dominga wrote a prayer which she shared with us: "Thank you Jesus for being here and for giving me so many brothers as a gift. I discovered You in each one of them. Lord, teach us to dream big, and of beautiful things that expand our hearts."