The programme was centred on Chiara Lubich's The Art of Loving and Pope Francis' recent The Joy of Love writings with a brief presentation enriched by a cascade of experiences dealing with family relationships, facing illness and death, the challenges of bringing up children at different stages of their lives, issues like bullying and other issues which touched a chord with many.
A Sikh couple, Romi and Harvinder Singh, shared how they have been living the Art of Loving in their family too and despite the challenges of racism, they stated that "it has always helped us to make positive steps in our lives."
Three interviews enriched the day: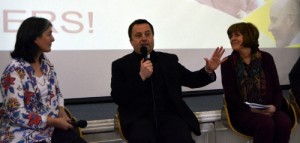 Fr Tim Bartlett, Secretary General for WMOF 2018, spoke about growing up in Belfast during the Troubles and the importance of family in his own faith journey. "Our first faith lessons are learned within our families. The WFOM presents a great impetus for strengthening and re-assuring families in their journey of faith and love", he said.
Lorna Gold, of Trocaire's climate justice campaign, spoke about her forthcoming book Roar – A Mother's Awakening in which she shares her experience of coming to terms with the troubled future now awaiting our children as a result of climate change.
Susan Gately, journalist and author of God's Surprises – New Movements in the Church highlighted the inspiring, supportive role of different ecclesial movements in fostering healthy family life and healing difficult situations.
The culminating moment of the day was the launch of the Family Cube to facilitate  the family together to go on this journey of love. The cube is based on the Art of loving and Pope Francis Amore Letizia and contains key phrases which provide a motto for the family to live each day.
The programme ended with the sharing of a big cube cake which everyone enjoyed!
"Listening to the practical examples given by the children when they rolled the cube of love really warmed my heart," said Bronagh Jemfrey from Belfast who is already using the dice. "Everyone needs a family cube in their homes, schools or indeed wherever they are."