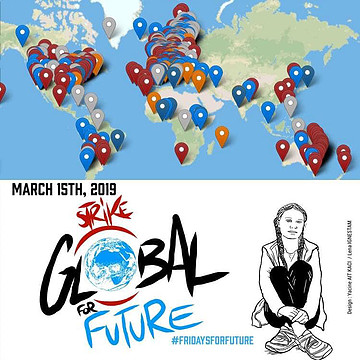 For this journey we propose you three concrete actions: BE, ACT, ASK
BE: Have an entire sustainable day: walk, or use public transport instead of using your car, avoid using plastics, choose ecological cleaning products, separate waste for recycling, reduce the consumption of meat, reduce the use of electricity, etc.
ACT: Contribute with symbolic and important actions to reduce climate change and its consequences, such as planting a tree or adopting a plant, helping a victim of climate crisis, get involved in projects and collective actions this regard, and much more!
ASK: Tell our politicians to take our future seriously and treat climate change for what it is – a crisis. Ask them to take action urgently!
CHECK THE ACTIONS IN YOUR CITY OR REGISTER A NEW ONE www.fridaysforfuture.org/events/map
Greta Thumberg is a Swedish 16-year-old climate activist. Its regular events held in front of the Riksdag in Stockholm, Sweden with the slogan Skolstrejk för klimatet (Climate School Strike) have made them have thousands of followers around the world.
Source: Prophetic Economy