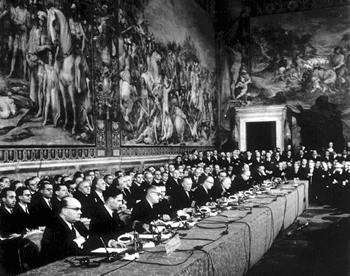 What Europe should be
United Europe is another step towards a united world. It is a step forward and an achievement under the pressure of popular requests, natural rights, Christian revelation, moral and spiritual forces, with the addition of economic and political, and scientific and technological pressure. All these propel towards unification, the final evolution of reason and morals, of life in time and in eternity.
For Clement of Alexandria – heir of Greek wisdom – unity is the good, and producer of life; division is the evil and generator of death. Civilisation grows proportionately with how much it unifies people.
For Huxley, every new progress of civilisation is a progress in charity, which is the sentiment which tends to make everyone one. It is no wonder since it is the soul of Christ whose testament ended in the vow: «so that all may be one.» Charity leads to integration, communion, and solidarity, also in politics and economy. And here, between the essential forces that press toward European integration, we want to illustrate the forces of the spirit, leaving it to illustrate the political, economic, and social aspects, etc.
Igino Giordani, «Fides», May 1961, p.130
Christianity and Europe
Europe is full of resentment like a storage of explosives, kept alive by philosophies and false patriotisms, mythologies and egoistic interests. In order not to explode, Europe needs to remove all this inflammable material. It needs a universal reconcilement, which could free it from the past so it could look to the future.
Whoever will carry out «this ministry of reconciliation?» It is Christianity: this well of sanctity, which Europe still guards and still communicates to other continents. And Christianity implies a unification in freedom and peace, with the elimination of wars and other reasons for friction.
Igino Giordani, «Fides», May 1961, p.131
The soul of Europe
Europe already has a soul: Christianity, its essence and its genesis. In this common spiritual breath, also the material and human factors blend and arise, vivifying themselves with a universal ideal. And so the peoples of Europe, upon reviving these principles at the base of their history, melting them in the ideal flame of solidarity, the fruit of love – which is divine intelligence – will find in its rationality, coexistence, urgency and need of it, the solution, firstly to their problems. This is the a decisive moment, in which an internal war – which today more than ever before, appears irrational and fratricide – could mark the definitive catastrophe. Love instead, putting the good in circulation, will be able mark the final salvation.
Igino Giordani, «Fides», May 1961, p.131