"Necessity is the mother of invention." Following this slogan, the Focolare community of the metropolitan area of Manila, Philippines, organized the very first Online Mariapolis on May 14 and 15.
"We were on the verge of separation. With just the two of us together once the lockdown began, we felt we had to confront our issues, set aside our differences and start again. Thank you for all your love." This was just one among many of the feedback we got from those who registered and participated via Zoom for the first ever Online Mariapolis held on May 14 and 15, 2020 in the Philippines.
The unexpected Enhanced Community Quarantine due to Covid-19 pushed us to look for means to connect our people and sustain them through the spirituality of unity. The whole idea was an offshoot of the online Mass that we began live streaming privately to a small group of focolare members. Soon after, it became a daily appointment, with our Facebook group for the Mass reaching the homes of around two thousand people.
We felt that if God hindered the possibility to carry on our big plans to "celebrate and meet" Chiara on her centenary, He opened this way, to do the same, in small bursts! From the outpouring of our Mass attendees through comments on Facebook Live, it was crystal clear that even for 30 minutes on a virtual platform, people are able to make an experience of God!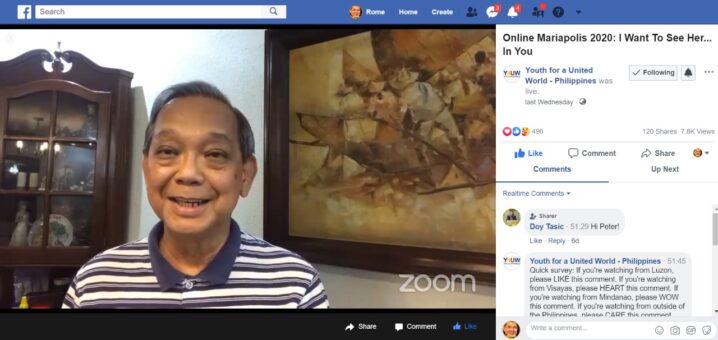 In the meantime, we had our first experiences with Zoom, for example during the United World Week and the Run4Unity. We felt we had to go for the Online Mariapolis, in order to be with and beside our people, in this very difficult moment. We were against very big odds: the "Mariapolites" would be with all the distractions at home, and would most probably be multitasking –  there would be children to look after, meals to cook, chores to finish, etc. Another major challenge would be the disparities in internet connectivity and service in a developing country like ours. Because of this, our Mariapolis were held for 2 days only, and just for 2 hours each time. We also considered to call it another name, not Mariapolis, so as to manage the expectations of people. But in the end, we all wanted it to be Mariapolis – just like every other Mariapolis we have had.
And we wanted it not as a webinar, but a Mariapolis, a City of Mary, because we felt that we needed Mary now and that we have to be Mary, as Chiara taught us, to bring Jesus-in-our-midst, to our people, so that this experience may help give light to their experience of the pandemic.
Registered Mariapolites reached about 950, not only from the Philippines, but also from other Asian countries, from Latin America, Canada, the United States and some even from Europe. The program, which was made available via live streaming for an unlimited number of participants, was composed of songs, Gospel-based experiences related to the current pandemic situation, spiritual inputs and an hour of in-depth communion during the breakout groups.
One participant meaningfully expressed what this Mariapolis was: "For me it was really a very concrete sign of Mary's love for all of us! As our mother, she really knows our personal and shared needs. Through the well-chosen theme, talks, experiences, and songs, she nourished us with the right food and vitamins both for the body and the soul."
Romé Vital