Contributions collected by Focolare Movement Emergency Coordination through the non-governmental organisations Azione per un Mondo Unito (AMU) and Azione per Famiglie Nuove (AFN) will go to support assistance activities for the Ukrainian population carried out by Caritas-Spes Ukraine.
The actions of war in Ukraine show no sign of stopping, and among the population there are thousands of displaced people fleeing. Many are trying to survive between homes and emergency shelters, where they can receive initial support.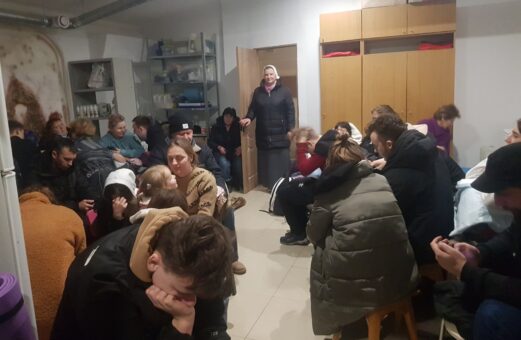 With contributions collected through the appeal launched by Focolare Movement Emergency Coordination, AMU and AFN are firstly supporting the actions of Caritas-Spes Ukraine. The organisation is providing aid to thousands of people forced to abandon their homes and flee to the border, or to take refuge in underground shelters set up in the immediate area where possible.
Caritas-Spes Ukraine is committed to offer safe shelter, food, medicine, hygiene products and psychological support for close to 500 displaced mothers with children housed in their centres. More than 2,500 people are also receiving aid through Caritas in the parishes and 14 soup kitchens that remain active in the areas of Kiev, Lutsk, Berdiansk, Kamenets-Podolsky, Zhytomyr, Kharkiv, Lviv, Odessa, Vinnitsa and several cities of the Transcarpathia Region.
The images of the war in Ukraine every day in international media, and the testimonies of our contacts on the ground, such as Mira Milavec, a Slovenian focolarina who lives in Ukraine and collaborates with Caritas-Spes, describe the state of emergency of a population under siege. The people are defenceless in the face of the bombing, and they crowd routes to reach the borders, or take refuge in basements or shelters, where makeshift beds have been set up as they wait for a hot meal, drinking water and electricity.
At the border with Poland, the line of desperate people who hope to cross the border is tens of kilometres long. Caritas-Spes in Lviv has organized special aid for mothers who try to escape with children, even very small ones, in their arms. They need everything, especially hot water to prepare meals or change diapers.
In Odessa, which is under attack, shelters are being set up, even under the cathedral. The activity is punctuated by the sound of sirens announcing danger arriving or its temporary cease.
In Vinnitsa a psychologist is organizing online training sessions for volunteers and operators about providing psychological help in stressful situations such as this. The first has already been attended by more than 120 people.
Currently, the fundraising has already reached 100,000 euros, and the first shipment of funds has already been sent. It is being used to support the actions of Caritas-Spes for early aid to Ukrainian families.
We are also evaluating the possibility of supporting the costs to take in the many Ukrainian refugees who are arriving in the surrounding countries, such as Slovakia and Poland. They are being welcomed by the generosity of local families who are opening their homes to them.
Unfortunately, military activities show no signs of ceasing, and as confirmed by local contacts, needs will only increase.
Frequent updates about the aid activity being carried out on the ground are available via the online and social channels of AMU and AFN.
To support Ukraine and aid families devastated by the war, donate online on these sites:
AMU: amu-it.eu/dona-online-3/
AFN: afnonlus.org/dona/
or through bank transfer to the following accounts:
Action for a United World ONLUS (AMU)
IBAN: IT 58 S 05018 03200 000011204344 at Banca Popolare Etica
SWIFT/BIC: ETICIT22XXX
Action for New Families ONLUS (AFN)
IBAN: IT 92 J 05018 03200 000016978561 at Banca Popolare Etica
SWIFT/BIC: ETICIT22XXX
Reference: Ukraine Emergency