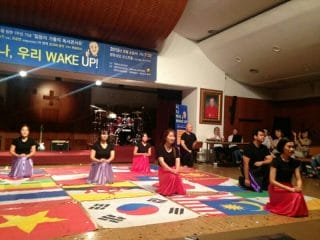 The Book Talk Concert is an event supported by the Korean Bishops Conference. It began three years ago with the goal of spreading the faith through monthly cultural events with popular artists and writers, and also newcomers.
In August the Book Concert offered a special edition for young people lifting up the message of Pope Francis to today's Korean society: "You, me, us – wake up!" The event was held at the beginning of the month in the Cathedral of Myeungdong where the Pope had celebrated the 2014 Mass for the Peace and Reconciliation of the Country .
The main guests included authors such as: Kong Ji-young, a favourite author the young; Father Jin Seul-ki, a young priest; and Cho Seung-yeon, a young expert in global culture.
"Wake up" was the heart of the Pope's message to the Asian young people gathered in Korea last year, and this year's message was: Wake up and rise, get moving in favour society and your neighbours, especially the suffering."
The writers talked about their personal awakenings, as they responded to the questions of the young people on how to face and overcome problems of faith and everyday life.
There was a concert by Third Chair, followed by discussion and experiences. There was also a deep moment of prayer for peace, using the words of Pope Francis. Twenty flags from several Asian countries painted a scene of brotherhood and the overcoming of age-old hostilities among nations.
One young man from the Focolare recounts: "I worked on two teams, scenario and art. We performed what we had prepared for last year's Asian Youth Day, which concluded the Book Concert. There were difficulties and tension at times, but we always aimed for an atmosphere of mutual understanding, also between generations, knowing that this was the only way the event could be a gift for the young people who had been invited."
Another young volunteer commented: "Through our often hidden service, we were able to relive last year's visit of the Pope and to convey that experience to many other young people."