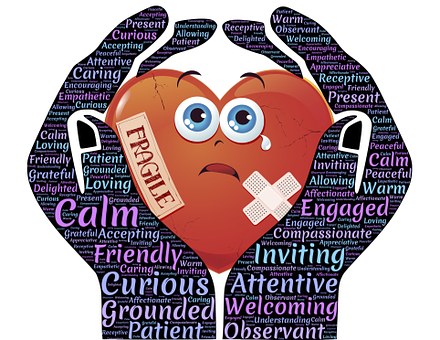 The mystery of human fragility.
The verbs of Mercy:  "…understand, forgive, accompany, hope, and above all, integrate" (AL 312).
The attitude required by Francis from the Church to the "wounded" is to welcome them and accompany them on a path of 'healing':
"…although she constantly holds up the call to perfection and asks for a fuller response to God, the Church must accompany with attention and care the weakest of her children, who show signs of a wounded and troubled love by restoring in them hope and confidence…Let us not forget that the Church's task is often like that of a field hospital" (AL 291), "…making room for the Lord's mercy, which spurs us on to do our best…Whenever we do so, our lives become wonderfully complicated" (AL 308).
The "logic" of the Gospel "commits us not to judge nor condemn, but rather to always welcome one another, so that everyone may find a place in the Christian community: "Nobody can be condemned forever, because this is not the logic of the Gospel" (AL 297),
Rather "…experience shows that with proper assistance and acts of reconciliation, through grace, a great percentage of troubled marriages find a solution in a satisfying manner.  To know how to forgive and to feel forgiven is a basic experience in family life"(AL 236).
Welcoming and brotherly accompaniment are also achieved by walking together on the path of solidarity. In fact:  "Fraternal charity is the first law of Christians…Let us not forget the reassuring words of scripture: "Above all maintain constant love for one another for love covers a multitude of sins"(1 Pt  4,8) (AL306).