At the Family Matters event, held in Maynooth University on the 29th April 2017, the Focolare Movement launched the Family Cube. On each of the six faces of the Cube there are two quotes, one from Chiara Lubich's book The Art of Loving, the other from Pope Francis The Joy of Love (Amoris Laetitia). These two key phrases provide a motto for the family to live each day.
A booklet can be downloaded with instructions on how to use the Family Cube with short excerpts from The Joy of Love and The Art of Loving. The pages also include links to scripture, as well as prayers and shared experiences.
One suggested use of the Cube is: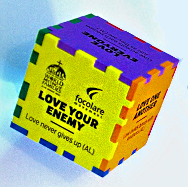 Roll The Family Cube every morning and see which face of the cube it lands on. Then read The Family Cube Card corresponding to that face.
Try to put that Gospel-based phrase into practice for the rest of the day.
Share what happened at family meal-time or at evening prayer-time.
Little by little we can discover this art of loving and experience the joy of love.
"Only starting from love can the family manifest, spread and regenerate God's love in the world. Without love, we cannot live as children of God, as couples, parents and brothers." – Pope Francis in his letter to World Meeting of Families 2018