Benoît and Chloé Mondou, a young couple from France, decided to start their married life by taking part in the World Youth Day in Lisbon (Portugal).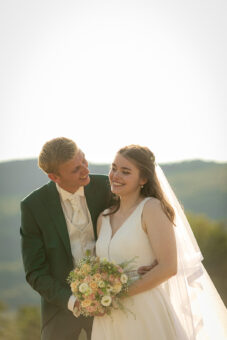 "Initially we thought our honeymoon would be a tour of Europe, but when the opportunity to go to WYD came up, we didn't hesitate for a single second!" Benoît and Chloé Mondou were married in Haute-Savoie (France), a week before World Youth Day in Lisbon (Portugal). He is twenty-four years old and she is twenty-two. They met seven years ago in the scout group of which they are active members. Today they are volunteer guides. Benoît has known the spirituality of the Focolare since he was a child and, through him, Chloé began to live it too. They set off for Lisbon with a group of young people from the French speaking countries of the Movement: France, Belgium and Switzerland. They said, "We didn't give up the trip to Europe but we thought that it was really important to go to the WYD. Now we can say that it put down an important marker for our marriage".
In their home town, Benoît and Chloé are also involved in a social project in which they visit people in nursing homes. Chloé said, "We are lucky to have been brought up in the same religion but we are also fortunate that we like praying together. For this reason, taking part in the WYD has given an even greater dimension to the faith we both have. During the WYD, there were times when we were separated, but then we met for praise or adoration and so we had those moments to pray together". Benoît continued, "It was very strong because in normally in daily life we don't really have the opportunity to pray together. In Lisbon taking time together, even if you were in a group, was strong. Personally, I think it's an experience you should have at least once in your life. And if you can do it as a couple, even better".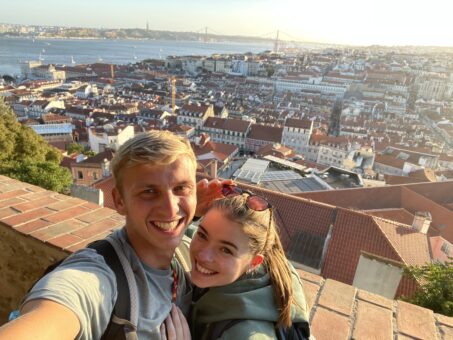 The moments with Pope Francis were fundamental. Chloé said, "For me the most important thing that the Pope said was when he reminded us that we are all loved, each person as they are, because when you are part of a group, sometimes you tend to create your own personality to stand out, to be accepted. But in places like that you realize that this is how we really live with each other, this is how we are natural and this is how God loves us more."
Benoît continues, "From the words of the Pope I feel I am taking up a challenge that is close to my heart: to try to be Jesus. The Pope invited the one and a half million young people who were in Lisbon to return to our countries, to spread the good news, to help others and to bring others ahead with the word of Christ. "
Chloé reflected "At the WYD I discovered a new way of living my faith. I realized that there are many different ways to live faith and it doesn't matter if one person goes to sing in the street and another prefers to be alone at the back of a church. In a family, everyone has to find their own place and their own way of praying".
Benoît concluded, "We left Portugal with greater faith. This experience increased the desire, which we already had, to raise our children in the faith and to educate them in the Gospel. After our wedding in the Church, we needed this WYD, this pilgrimage, recollection and prayer. It was really good for us".
 Anna Lisa Innocenti