From the end of July to the beginning of August 2023, Gen Verde travelled the length and breadth of Portugal. A fortnight long tour featuring art workshops and concerts. Many young people were involved in an experience of transforming music into a means of testimony and encounter.
The journey, from 23rd July-4th August, started in Braga (north Portugal), continued south to the Algarve and concluded in Lisbon, in the festive and intoxicating atmosphere of a World Youth Day (WYD). This was the itinerary of the Gen Verde International Performing Arts Group, an all women band which began in 1966 from an inspiration of Chiara Lubich, founder of the Focolare Movement.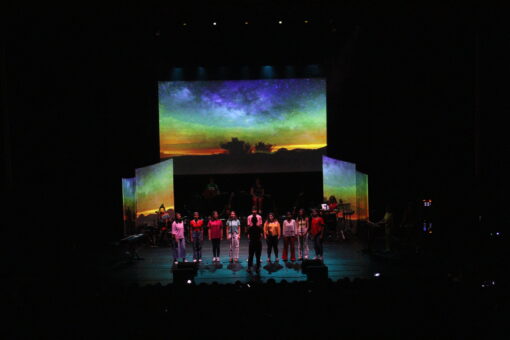 It was a demanding tour characterized by encounters and friendship. The seeds sown through words and notes yielded a rich harvest of real life experiences. One of Gen Verde's projects is the "Start Now" workshop, a musical and artistic project which focuses on peace and dialogue education. One such workshop took place in Braga with an amazing group of young people from Spain and Portugal and included a special collaboration with Projeto Homem Braga (PHB). PHB specializes in the treatment, prevention, harm reduction and reintegration of people with addictions. After a meeting with Gen Verde, one of the PHB educators said, "We usually feel a bit anxious when we invite people from outside to get to know the users of our Centre because we don't want to disturb their recovery process. Today we have to thank you for giving so much joy to all of us".
A Spanish boy who attended the workshop commented, "We have discovered that music, dance and art can really help us overcome many barriers, such as linguistic and cultural barriers. Sometimes it's difficult to 'row' in the same direction, it takes patience because we don't all go at the same pace, but one thing we carry with us is the joy that is transmitted, beyond the difficulties. Love makes us overcome all conflicts".
To the sound of "Girl On A Mission (Magnificat)", the song composed by Gen Verde for the WYD, the Band moved to Faro (Algarve- Portugal) where they participated in the Dioceses' pre-WYD preparation, concluding on 31st July, with a concert in the Algarve Stadium. Next stop was the Portuguese capital for another "Start Now" workshop with about 100 young people. At the end, on 2nd August, the young people performed with the Band in the jam-packed Auditório da Faculdade de Medicina Dentária. A Portuguese girl said, "It was very gratifying to take part in an activity like this because we can learn about and get to know others. We understood that it is important both to say our opinion and to know how to lose that idea in teamwork. The word that summarizes everything we have learned is humility, to give others the opportunity to express themselves". Another girl spoke about learning to overcome challenges in the sense of "being able to listen, to understand others' ideas, to learn how to interact, to let go of shyness and create something beautiful and do it together". Marita Alvarez (Argentina), one of Gen Verde's singers, told us: "Over the years, we have met many young people in our artistic workshops in many countries, from Slovakia, Poland, Ukraine, to Spain, Austria, Germany and Italy, to name a few. Deep, true and lasting relationships have been formed.  We have seen how these young people become leaders of their communities, committed and ready to multiply joy through the "Magnificat anima mea" that God has brought about in their lives".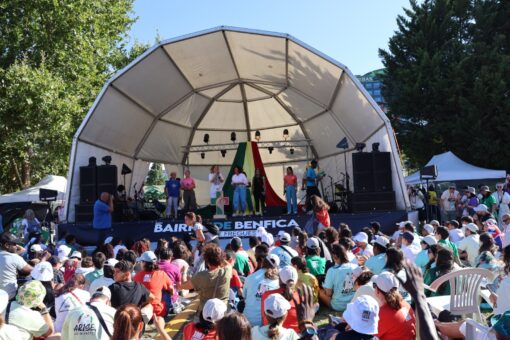 With the WYD, Lisbon gleamed with all the colours of youth. It was a unique opportunity to give witness and at the same time, experience the vivacity of a pilgrim Church which, from all parts of the globe, calls us by name. In this family spirit, Gen Verde took part in the second day of the "Rise Up" catechesis organized by the Focolare Movement. They sang and animated the Mass with over 7,000 young people. They then concluded their trip to Portugal on 4th August, with a concert in Alameda Dom Afonso Henriques, at the end of the Halleluya Festival.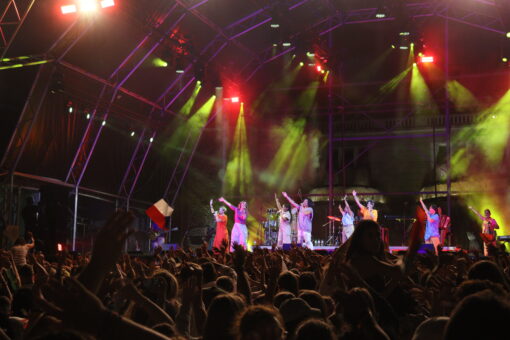 Jesús Morán, Co-President of the Focolare Movement was there and had this impression, "I was very struck by their unity. The young people were overjoyed. They were all taken by the rhythm and the music, but the songs include many deep moments and in those, the young people were able to pause and reflect. I thought it was like a 'fifteenth station' of the Via Crucis! There is no such thing and yet as everyone says and imagines, it is a sign of the Resurrection. It was a hymn to the Resurrection, to joy. I believe that this is the right way to communicate the Gospel with a musical language that young people love".
Maria Grazia Berretta