The proposed theme, related to family life, was: "Couple Crisis . . . recognize it and get out of it", the invitation was open to all who wanted to profit from the opportunity to take stock of the situation of their life as a couple, not necessarily in "crisis".
It began on Saturday morning with the presentation of the citadel of Loppiano and the spirituality of unity that animates it; the experiences of Mauro and Petra's choice of life led us, even in a personal capacity, to renew our choice of married life and prepare to live the weekend with commitment and decision.
Saturday afternoon was dedicated to deepening the theme: the intervention and personal experiences of Lucia Coco (psychologist) and her husband Umberto De Angelis opened the way to a moment of personal "work" and then of confrontation in pairs which were followed by questions and answers and very participated sharing of married life.
The day ended with a relaxing evening in front of a table laden with typical cakes/desserts brought from the various cities of origin, and a game that involved adults, teenagers, and children in an exciting race until the last answer.
Sunday morning continued with the second part of the topic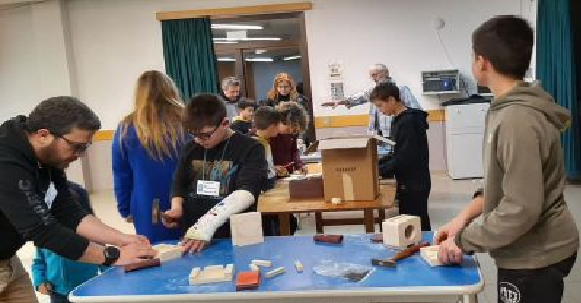 of the weekend, and in this case, a brief presentation by Lucia and Umberto was followed by a moment of personal work and then very intense confrontation as a couple. The sharing between everyone and the questions asked highlighted how necessary it is for everyone to find moments to take time-out from the daily vortex of life and take care of them selves as a couple, with the proposal of an "ideal recipe" to take home: carve out 15 minutes a day as a couple, an hour a week, one day a month, a week a year. Utopia? Perhaps, but the effort seemed to everyone an excellent antidote to prevent not only moments of crisis, but also those routines that can accumulate dust on our life as a couple.
On Saturday the children and young people were involved in carpentry workshops for the construction of wool mandalas, passive amplifiers for mobile phones, and crafts with paper and glue. Given the beautiful day, there was certainly a moment to play football! On Sunday everyone wanted to discover the nature of Loppiano with a naturalistic-sensory workshop that has again been a big success.
We all left Loppiano greeting each other as if we had always known each other, for real bonds have been created, some even deep. The surprise of having found a couple who had already participated in a previous weekend underlined how Family Format can be a valid proposal to support the world of the family.
Santina and Pier Luigi Crocchioni