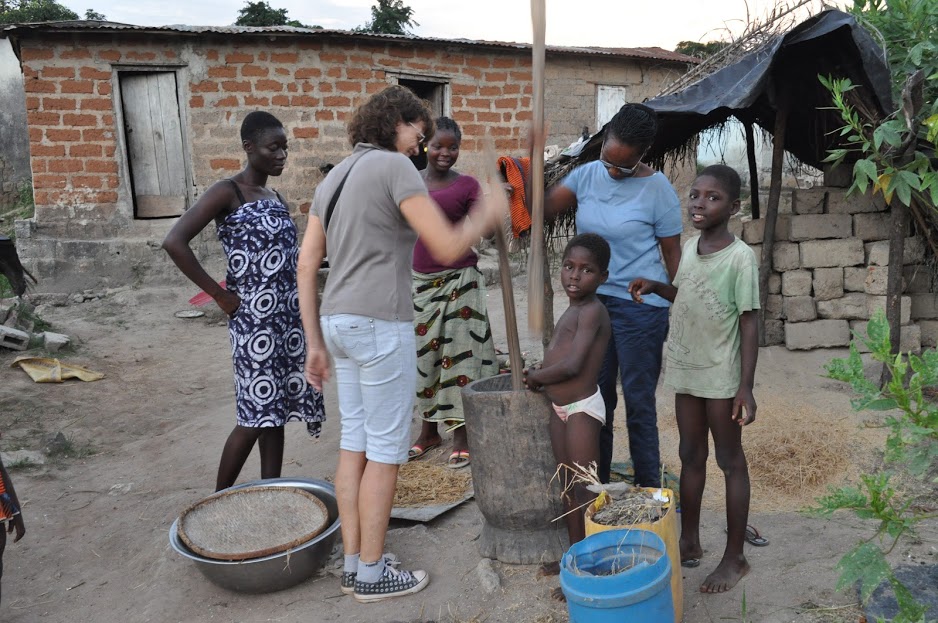 «Hello everyone, how are you? our experience in Côte d'Ivoire is already over. A month has passed quickly, lived intensely, and with great enthusiasm. I am glad I spent my month's leave in this way.
Before leaving more than once I asked myself what it would be like my return to this beautiful land, how would I face certain situations, review that beautiful contrast between red colour of the soil and green of nature, many were the questions and thoughts, but then I realized that it was no usegoing there with  ideas already fixed in my head, I couldn't go with expectations so I tried to empty myself and tried again to be open and to see everything with a new eye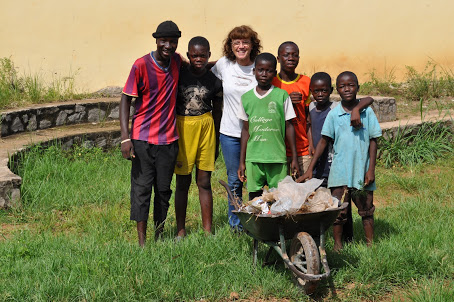 So the countdown began and the day of departure arrived, our little adventure began straight away, from the taxi outside the airport, to the bus to go to Man, but it's nice to be able to get at once into the game and accept whatever happens. Finally at Man I found again my African family, the welcome is strong and unique, from and focolarini but also from the people I had known, who immediately recognized me and gave me their welcome which was never lacking in warmth. And the traditional sentence "il y a place á la maison"  (there is room for you at home) never failed.
It is true that I was on my holidays but what need is there to go and do nothing, sit back and watch? It makes no sense. So I could work and see the new medical center. Much bigger and better run for patients and personnel. Nice and cozy. Many were the experiences I lived at the Medical Center, it was always great to be able to face situations together.
I even managed to see the girls with whom I was meeting two afternoons a week, seeing them and spending a few hours with them my heart. Although it was already opened since about three weeks, we were able to live together with my mother, the whole community and approximately more than 350 people we witnessed the inauguration of the new dispensary.
This was also a  strong experience lived together-I can say that even this time the bright and starry sky helped me more than once. It  accompanied me during the good and  hard times,  merely to be able to say thank  you for the day. This time I'm leaving more enriched than when I arrived, more aware that the most important thing is not only material, and that it takes little to be happy, and often it is enough just a simple smile or a look filled with love or given with simplicity to fill the emptiness or a fix, or sometimes just to say a thank you that you can't express it differently». – Veronica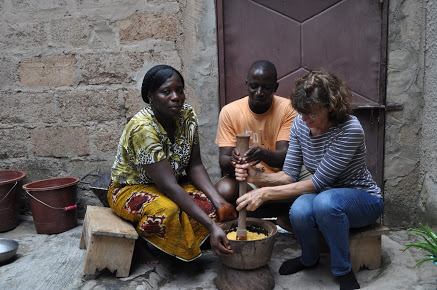 «When Veronica told us that during her month's leave she would be going back to Côte d'Ivoire  I immediately asked her if she was glad that I accompanied her. In my heart I too like many, I've always wanted to live an experience of this kind in any African nation. So we started the preparations for the trip.
As time went on and our departure was near, I was overcomed by a strong sense of insecurity and fear. It seemed to me that certain situations needed my presence and I was indispensable at home. Leave behind my husband, children, my mum and my in-laws … …. Sergio (my husband) understood my state of anxiety and encouraged me a lot. This experience was also important to us as a couple. Being away a month made us understand more about the value of being together, the value of the other.
So we left. Although Veronica had told me and I had seen pictures and videos, some things were really very strong. Some things just have to be seen, you can't imagine them. How many times did I ask myself how can someone adjust to living in such poverty and misery, in mud, in the dust. Yet  the people are happy don't lack anything. They  meet on the street and greet each other by shaking hands, asking how you are doing, inviting you home (although the houses are of 10 square meters) because at home there is room.
I tried to help at the nutritional centre. Since they had just moved from Libreville to the new  Social Medical Center) I helped with the arrangement of the furniture, I sewed, painted, covered tables and stools, created a corner where children can play, etc.  In this Centre I saw much suffering in children and their mothers, but relieved by talks with Margrit who in every situation worked little miracles. In the neighborhood, going to buy bread I made friends with some people, with my three words of French and Genoese so I was able to speak and build relationships. I realized that in the final analysis what speaks are our eyes and hearts.
We felt loved by the focolarini. With their ways of doing and their attention they were always forseeing our needs. They were always available for various desires. It's really true that what you receive is more than what you give … I understood why Veronica stayed there one year and was almost sorry to come back … I too now that I'm back hearts and minds are always at Man. But maybe this is just the beginning …». Adriana