The Focolare Centre for Unity is situated on 'Parkway', the main boulevard of Welwyn Garden City, an 8 minute walk from the train station and town centre. There is a small car park at the Centre, which is accessed via 'The Cloisters'. This includes disabled parking and a limited number of car parking spaces. The car park quickly fills up on busy days so visitors are encouraged to use the ample parking in town at the station and the Howard Centre multi-storey car park.
The Centre for Unity is housed in the building that was formerly Mater Dei High School.
Externally our Centre still resembles a convent school. Once through the doors, however, the scene is very different. We hear the same comment almost every time a person first visits the Centre: 'It's so light, modern, colourful'.
The transformation of Mater Dei School into a modern conference centre has been made over the last 35 years. The funds for the work came from gifts, earnings and legacies from the members of the Focolare Movement in the UK.
About the building
The design by Argentinean architect Marcello Pardo expresses the style and desire of the Focolare to promote and foster dialogue between people. There are many spaces for group meetings, interviews and breakout areas for relaxation. The style also is in keeping with the Garden City.
About the meeting spaces
The largest meeting room is Room 1 which can accommodate 120 people in theatre style. Room 2 can seat up to 80 people, theatre style. Anna's Room is a large social space which can also be divided into a meeting room and coffee bar. When the space is divided the meeting room can accommodate 30 people, theatre style. Our smallest room is the Seminar room. This is an excellent venue for a smaller board meeting or 25 people, theatre style.
Food
We understand the important role of food in helping meetings go well. For day groups we can offer a freshly made Healthy Options Buffet or a delicious sandwich lunch.
We are not licensed to sell alcohol but, with prior notice, groups are able to bring their own.
Who uses the Centre for Unity?
Our venue is used by many types of groups: religious – any faith, charities – local or international, Local authority groups, NHS groups and, of course, it is the home of the Focolare Movement too. It hosts the Movement's ecumenical and interfaith activities as well as retreats and events for young people.
What kind of courses?
The premise set by our Trustees is that all courses run at the Centre for Unity should be centred on formation: professional, spiritual or education.
Residential groups
We can also accommodate residential conferences. We have 29 clean, light, well maintained en-suite bedrooms. So, with single occupancy per room we can sleep 29 people – if some rooms are shared we can accommodate 60.
Many of the people who work here do so on a voluntary basis and we do not take day groups on Mondays and Fridays.
If you would like to know more or to check availability, please contact us: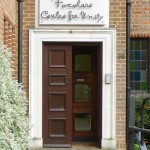 Focolare Centre for Unity
69 Parkway,
Welwyn Garden City,
Hertfordshire AL8 6JG
Email: cfu@focolare.org.uk
Telephone: 01707 323 620
We look forward to welcoming you.