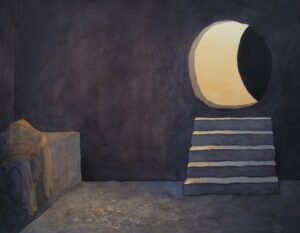 You are invited to an exhibition of works from the Methodist Modern Art Collection
From Friday 1 March to Sunday 7 April 2024
At: Focolare Centre for Unity
69 Parkway, Welwyn Garden City, Hertfordshire, AL7 6JG
The Methodist Modern Art Collection
'…one of the art world's unexpected treasures, including some of the most powerful and arresting religious art of the 20th and 21st centuries.'
Tim Marlow, Chief Executive and Director of the Design Museum, London and former Artistic Director of The Royal Academy
The collection includes exhibits by key figures of 20th and 21st century British art, including Graham Sutherland and Elisabeth Frink, as well as works by international artists. The exhibition will include a programme of workshops and lectures for all ages.
Why have the MMAC at the Focolare Centre for Unity?
Having the exhibition at the Centre will be an opportunity to open the doors to the general public – to people who have never been to the Centre. Alongside the exhibition there will be weekly lectures and a community café. There will be a particular focus on schools and church communities with workshops and retreats. It is an ambitious undertaking and the organising committee has been working on this for the last 18 months.
For more information see Facebook: Art 2024 at WGC
or contact art2024@focolare.org.uk