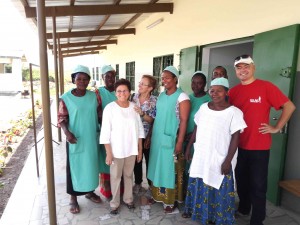 After their arrival at Abidjan airport in the evening of 25th November and the long journey the next day to get up to the West of Côte d'Ivoire, here to the city of Man, the 27th was dedicated to visit the whole of the Mariapolis Victoria with its houses, streets, workshops and social life.
Yesterday, Saturday 28 November, it was the long awaited moment to meet the community: a joyful moment of joy and great participation of all.
It was long awaited, to experience the joy and amazement of feeling at home, even 5000 km from home, but also the desire to understand better the context and the protagonists of this citadel with their traditions and culture.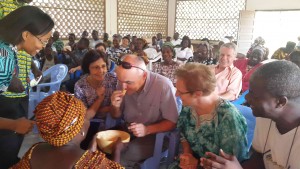 But who are Vita and Vitek? They are the responsibles of the Focolare Movement for the environment and harmony, for buildings and in particular they follow the development of the 30 citadels of the Movement in the world. It was very significant the moment of sharing the "cola" the fruit which is used in all the rituals of peace and acceptance. During the celebration, it was very lively the performance of the youth choir called "Chiara Luce" that someone described as "Mozart beat of drums." .
Suddenly, unexpectedly, the arrival of the local bishop monsignor Gaspard Beby Gneba who gave a warm welcome to our guests.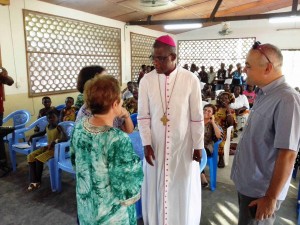 Vita and Vitek transmitted the heartfelt greetings of the President of the Movement, Emmaus Maria Voce.
There are still a few days before their departure, days that will be involved in drawing up a development plan of the Citadel: a city plan and an enhancement of existing structures. Courage everyone and thanks you Vita et Vitek!