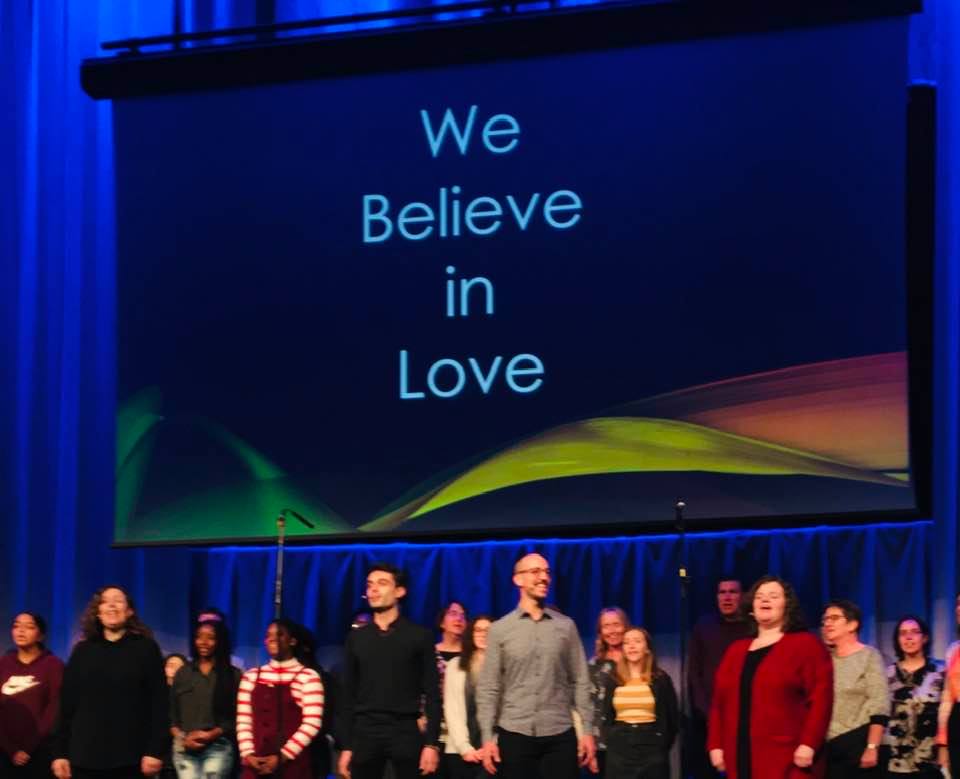 Like all the other similar events being held worldwide during this centenary year, the focus was not on remembering someone who died in 2008 and who is already on the way to beatification, but on someone who still lives on in the charism of unity. What was perhaps most extraordinary was hearing the keynote speakers from non-Christian faiths who opened our eyes to see with their eyes what Chiara and her ideal of unity means for them, thus unwittingly spurring on everyone to live her spirituality with new vigour and vision, and to have the courage not to hold back but take risks to achieve together Christs's prayer "May they all be One."
Sheikh Dr Mohammad Ali Somali, Director of the International Institute for Islamic Studies, who has known and lived the spirituality of the Focolare for many years, made everyone sit up when he said that when there is unity, as there is now, we have gone beyond dialogue – we have reached unity, so dialogue is no longer necessary.
Other keynote speakers were: Catholic Archbishop Bernard Longley of Birmingham, Bhai Sahib Ji Mohinder Singh, Spiritual Leader of the Guru Nanak Nishkam Swak Jatha (GNNSJ) and Professor Pillay, Vice-Chancellor & Rector of Liverpool Hope University.
There were also notable and moving interventions from young people from the Focolare and the Sikh youth who have an ongoing, shared experience of building unity together through inter-school music workshops and other activities.
Some impressions:
"I feel that from beginning to end it was an experience of maturity, composure, joy, and absolute certainty of God's presence among us."
 "Each person, devoid of ego (assisted by the determination to have Jesus present with us) and committed to continuing Chiara's legacy of 'Be a family', was a witness to, and instrument of God's continuing work to reach His goal, 'May they all be One'."
 "From the joy of seeing old friends, to that of making new ones; from listening to and sharing in experiences and reflections from dignitaries and from simple day to day lives lived; from the expertise and artistry of the performers and presenters to the dignity of the 'stage hands' – each moment seemed precious."
"It gave a vision of humanity as surely God must long for us to be. Small, yes, in front of the problems of the world today, but abounding in hope. Hope for a future we can only just begin to imagine – in those moments we catch the
light."
 "It could be seen as an anti-dote to the Brexit years, yes what we do is on a small scale in comparison, but it is on a national level, it is real, built on rock and will grow and last."

 "I cannot describe the joy I experienced throughout the whole day."
 "I was able to thank the Sikh Leader and was very aware of his humility. For me it is certainly a new start with great joy, hope and faith: that all the little acts of love that we do will bear fruit , even if sometimes we don't see it."
 "It was an absolute privilege to be part of this celebration and witness of unity, very moving, beautiful programme…. such an historic, powerful and hopeful celebration. Joy to heaven and joy to earth."
 "Amazing talks. It was such a privilege to be part of this experience."
 "Seeing our ideal of unity through the eyes of these amazing and high profile people was not only humbling, but also an eye-opener and an incentive to live it fully wherever we are…  An explosion of love…."
Some photos of the day: https://photos.app.goo.gl/j86anfZBcr9azzkt6
read more
https://www.indcatholicnews.com/news/38928