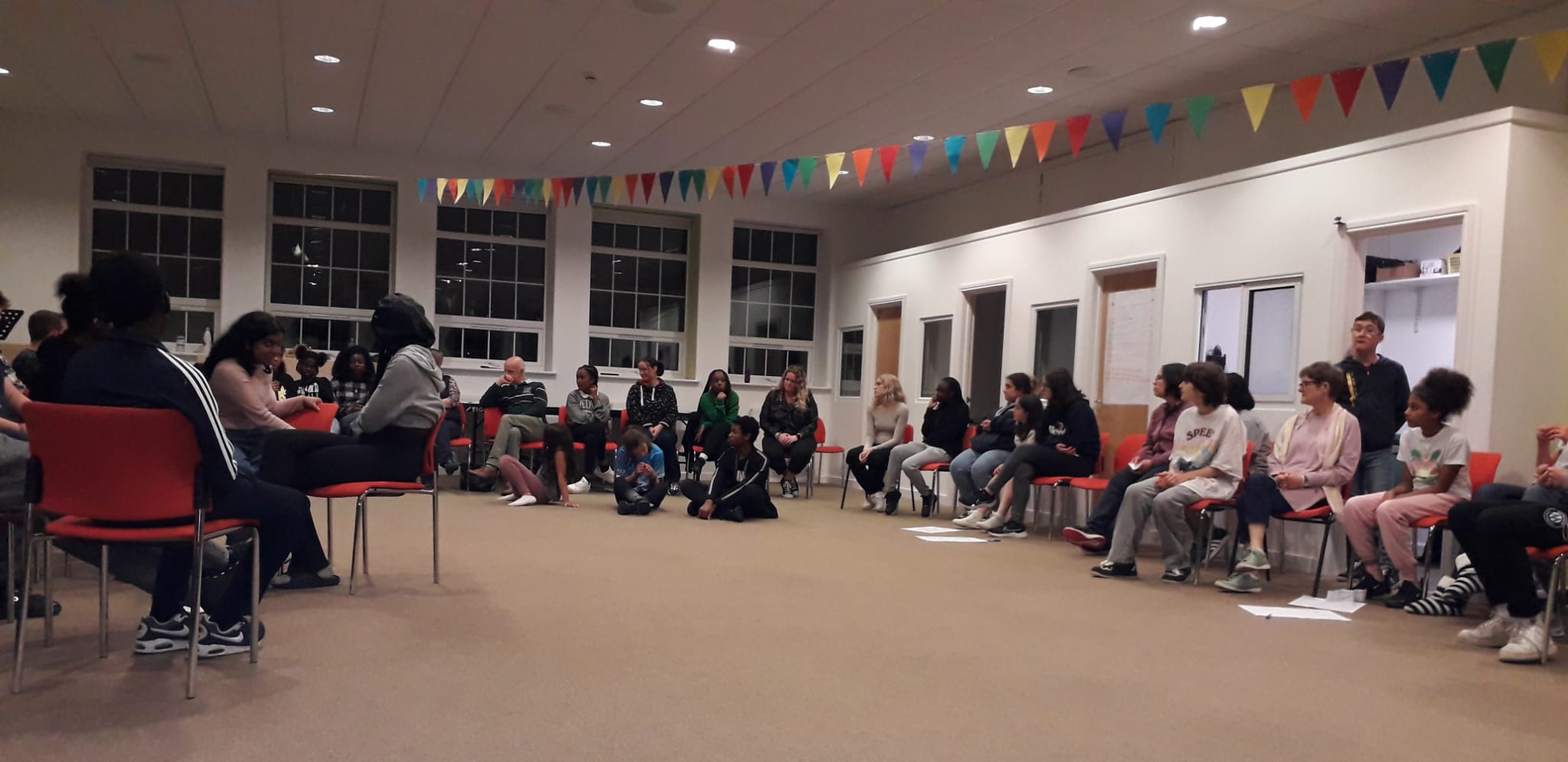 Young people battled one of the worst storms in living memory to gather at the Focolare Centre for Unity 20-22 October. A group of around 50 participants aged between nine and 30, plus a band of voluntary helpers, met up for a weekend of challenges, exploration of faith, and a lot of fun.
Although some were sadly prevented by the extreme weather conditions from attending, others came from Scotland, Wales, across the North of England, the Midlands, London and the South East.
A varied programme of group discussions, games and activities, workshops and moments of reflection all centred around the aim of building a more united world, and what part faith plays in that dream.
One of the workshops looked at media, and thanks go to Thomas, Daniel and David who did the research for this article!
Other workshops included traditional/ceilidh dance, music, pebble painting, and woodwork. The social outreach workshop went to visit a local care home to sing, dance and chat with the residents. This was described as 'magical' by one participant, and the afternoon was enjoyed by all.
Singers in the music workshop spoke of how music connected them, even though they didn't all know each other. Intricately woven baskets were produced in the woodwork workshop, which people found a challenging and rewarding new experience.
An evening candle-lit vigil provided the opportunity for everyone to stop and reflect on their own hopes and prayers, inspired by role models of other young people who had made a difference in their communities and beyond.
The helpers who attended also shared their motivation for coming to the weekend, with a keenness to support young people in such a positive event. David, who led the woodwork workshop, explained how important it was to learn together by putting things into practice – whether that was a skill like basket weaving or the words of the gospel.
Ettore, who was part of the catering team, is a strategy consultant by profession. When asked how he would advise young people today making decisions, he said "Look at what it will mean for you in five years' time. Look at the facts and impact, positives and negatives. Use your brain, but also follow your heart!"
Feedback from the young people included suggestions for future events, but many commented on how much they had enjoyed being all together, making 'new and trustworthy' friends and participating in the different activities. Asked what they would take away from the weekend, it was clear that the opportunity to recharge spiritually had been valued. Comments included 'courage', 'how God loves us', 'spreading the love and unity I have found here' and 'a renewed vigour for living the message of the gospel and being the first to love'.
With these young people setting out to share what they have experienced, there is certainly hope for the future.
report by Helen Copeland