For the first time in 70 years, the Focolare is holding a Europe-wide summer gathering or Mariapolis. With the theme 'Aim High', the European Mariapolis will take place from 14 July to 11 August 2019 at Fiera di Primiero in the Dolomites (Italy). Each week will be tailored to a number of European l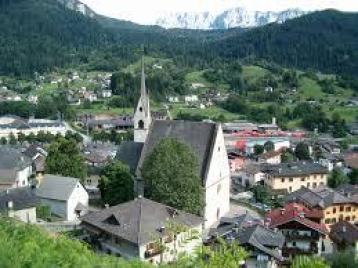 anguages.
According to organisers, the event is arousing much interest. In just a few weeks, early bookings have far exceeded available accommodation. As of 31 January, the closing date for pre-registration, almost 3,000 people had registered, 600 more than the allocated 2,400 places for the event (600 per week).
The European Mariapolis comes against the background of an increasingly fragmented continent of Europe. "Our dream is to have an event which underlines the beauty of the European continent in all its diversity, where the richness of every culture emerges in the splendid tapestry that is Europe," said Peter Forst from Focolare. "We believe that through sharing our stories, our cultures and our histories – getting to know each other – we can lay the foundation for a more united Europe."
A Mariapolis (City of Mary) is a gathering where the citizens of a temporary 'town' try to build a new type of human society based on the relationships in a family – fraternity and mutual respect, as they holiday together. Participants will be accommodated in hotels, a religious institute, houses and self-catering apartments in the Fiera di Primiero region.
Meanwhile, a team made up of people from a number of European countries is already "experiencing" the Mariapolis first hand, as they prepare the programme for the four week-long Mariapolis events, which will include a variety of key inputs, moments of cultural exchange, workshops and round table discussions. "We hope that there will be something for everyone! And of course, it will also be a holiday – participants will have many opportunities for walking, hiking and other cultural events," commented Ana Siewniak from the UK, a member of the group preparing the programme. She told CatholicIreland.net that one of the aims of the Euro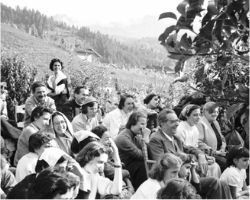 pean Mariapolis was to have loads of "spaces in which to exchange the richness of our cultures and our experiences", for example learning each other's national songs or dances.
In a recent interview, Maria Voce, President of the Focolare Movement, described her own first experience of the last Mariapolis at Primiero 70 years ago in 1959. "I remember it well – we slept in school halls – all the mattresses on the floor. There was a chair between each bed and that was the extent of the furniture for the participants. There were no wardrobes, no mirrors for doing your hair. Yet none of this took from the experience of the life of the Mariapolis."
Although the Mariapolis was materially poor, she continued, it was "very rich in spiritual grace – the divine, which was built up and shone out among the people of the Mariapolis, involving all the participants".
Among the 12,000 people who passed through the final Mariapolis at Fiera di Primiero in 1959 were people from all walks of life, she explained, and from many countries. "Poor and rich people came" through a large communion of goods among everyone. "It was truly the coming together of a town rich in these relationships of mutual love. People were all equal in a love that gave everyone the same divine life and full joy."
Susan Gately
"A return to Dolomites"- [New City Magazine – February 2019, page 7]