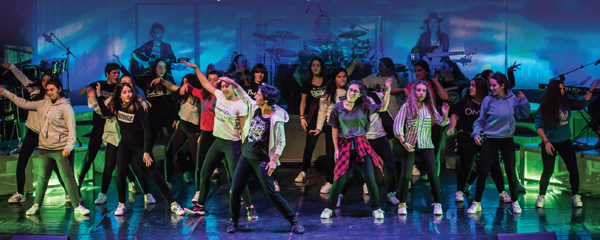 In a world full of so much division, making music is a great way to build unity – and Gen Verde have experienced that building unity is a great way to make music!
Gen Verde's new album From the Inside Outside is filled with songs of conviction: that there is hope, despite so many appearances to the contrary.
But it is not a naïve hope, however, for as they say "it's a certainty we've found in our daily lives and meeting with many people all over the world."
The international performing arts group have worked with young people from many countries, and shared their challenges: fears for the future, addictions, insecurities of all kinds. The music they create together reflects the journey that often starts in darkness but emerges into light.
So what can be expected from the interactive weekend in Welwyn Garden City? If we pull the word 'interactive' apart, there may be some clues.
'Inter': no-one knows what the result will be, but it will be built together; going beyond appearances, pre-conceptions, musical likes and dislikes.
'Active': come ready to work hard, listen hard, give, accept, laugh, start again. Contribute your talents, value the talents of others. You don't have to be a virtuoso – it's enough to enjoy music and be ready for an adventure.
Reflecting on the theme of 'Beyond all borders' the weekend will be a chance to shake the barriers within ourselves and between us.
Gen Verde are convinced that if each one draws from the great potential they have inside, and perhaps from beyond them, there are plenty of reasons to be hopeful.
What to expect
Music, workshops and more… but what is that more? A chance to collaborate with a professional international performing arts group, to learn to go beyond your own social borders, and to explore what it means to make positive choices in today's world.
A mixture of workshops, performances and discussion will give you the chance to enjoy yourselves and explore your creative side. The idea is  to work together with Gen Verde, who themselves come from 15 different countries, and all the participants to see how we can use the arts to go "beyond all borders" to build a more united world. The experience will include workshops in a variety of artistic disciplines which is a fantastic chance to benefit from the expertise and experience that Gen Verde bring, and to learn how they try to be more than just an performing arts group.
If you are between 15-23 years old then book your place here now.