Mariapolis in South Wales: 'Listening to silent music'
Our gathering – which was very much expressed in the title – was an invitation to deepen our prayer life and 'tune in' to the voice of the Holy Spirit. There were reflections and personal experiences giving opportunities to explore different ways of expressing prayer and also allowing plenty of time to share, in small groups, our personal experiences of prayer. We heard family experiences, prayer expressed through art and music and through deep reflections. It was very positive, very moving and a chance for 'regathering' ourselves.
Above all, it was shared family experience – one could even say a supernatural family experience where the Holy Spirit moved unhindered.
This was expressed through moments of spontaneous sharing, praying, singing and sharing of talents – especially at the 'mini-Mariapolital' on the Saturday evening, which was very international for such a small group. Although it was a small gathering there were all generations present, fully taking part and contributing. It was a simple joy just to physically be together in a shared experience.
David Williams, Cwmbran, reports
Mariapolis in North West England: 'Time for…'
Time for God, for each other, for friendship, for nature, for reflecting on shared values and for adventure!
These were the hopes for the Mariapolis in the North West of England, and it was amazing to see how all these elements fitted together over a sunny May weekend in Clitheroe.
A real family atmosphere was created, partly due to the whole weekend spent 'together' across all ages. Even the times of reflection were shared, with the simple but profound message that we have a treasure to discover inside ourselves and in one another.
There were workshop options including sessions on prayer and the chance to learn more about the Focolare spirituality. Others chose to spend time walking together, playing games or making artwork.
One person said how amazed she was to learn that prayer can be in so many things, even playing together and doing crafts. She felt it renewed her relationship with God.

Young and old felt at ease to participate at their own pace, with several parents commenting that their children had enjoyed spending time with others without their phones. The young people were an enriching presence, often drawing out the essential in the reflections and activities. Those who were less mobile found that people came to them to spend time talking and enjoying the surroundings together.
The realities of the world were not completely forgotten, and an interactive evening vigil focused on the climate crisis. Also it became apparent that several of those present were involved in helping refugees in different ways, and plans are being developed to share knowledge and experiences in this area.
Despite having a relatively small amount of 'spiritual' content, people commented that they left feeling spiritually enriched, keen to share the treasure they had discovered together.
from Helen Copeland, Leeds 
Mariapolis in Scotland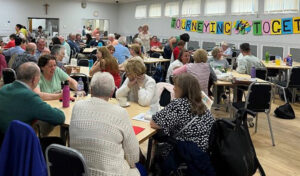 The Mariapolis in Scotland was held over the first weekend in September, in Falkirk.
Over the two days there were 94 participants from the ages of 8 months to well over 80 years of age. The theme Journeying Together  was explored through a variety of talks and personal stories, table activities, workshops and games, walks, moments of prayer, sharing and through simply being together. The presence of Jesus among all was very tangible.
Many commented on the welcome, the warm, happy and relaxed atmosphere, the outpouring of love, the chance to speak to people of faith, the music and the ecumenical service. Participants included members of the Roman Catholic Church, the Church of Scotland and the Methodist Church, among others. Comments left in the feedback and the graphic created together express what participants took away from the event:
"How wonderful it was to be with everyone at the Mariapolis yesterday: a day filled with universal love. What joy to be able to listen to one another to share and renew our desire to put our love for God into practice. Thank you all. "

"It was a really lovely weekend. As with every Mariapolis I've ever attended I left feeling refreshed and hopeful!"

"Strangers to me just approaching and being very welcoming. I did not feel alone at any time. (I)Felt very aware of the love of God."
Edited by Helen Copeland