Mariapolis GB 2020:




A Light for the World
Mariapolis is a gathering of people, organised by the Focolare Movement, the aim of which is to help build the united world which Jesus prayed for with the words, "…that they may all be one" (John 17:21). People from all walks of life and expressions of faith, or none, are invited to join this adventure.
With the coronavirus pandemic, racism, social inequality, divisions and conflicts, climate change… it is easy to lose hope. But a just, peaceful, caring and united world is possible!
Mariapolis GB 2020 presents a universal message, that gives a light for the world today.
This year, Mariapolis GB 2020 is happening online. There will be a programme of presentations, sharing of real life stories, musical and cultural contributions, interactive workshops, moments of reflection, relaxation, and entertainment.
All are welcome! Please join us for all or part of the day.
Booking is essential. Click here to Book
Book by July 19th if possible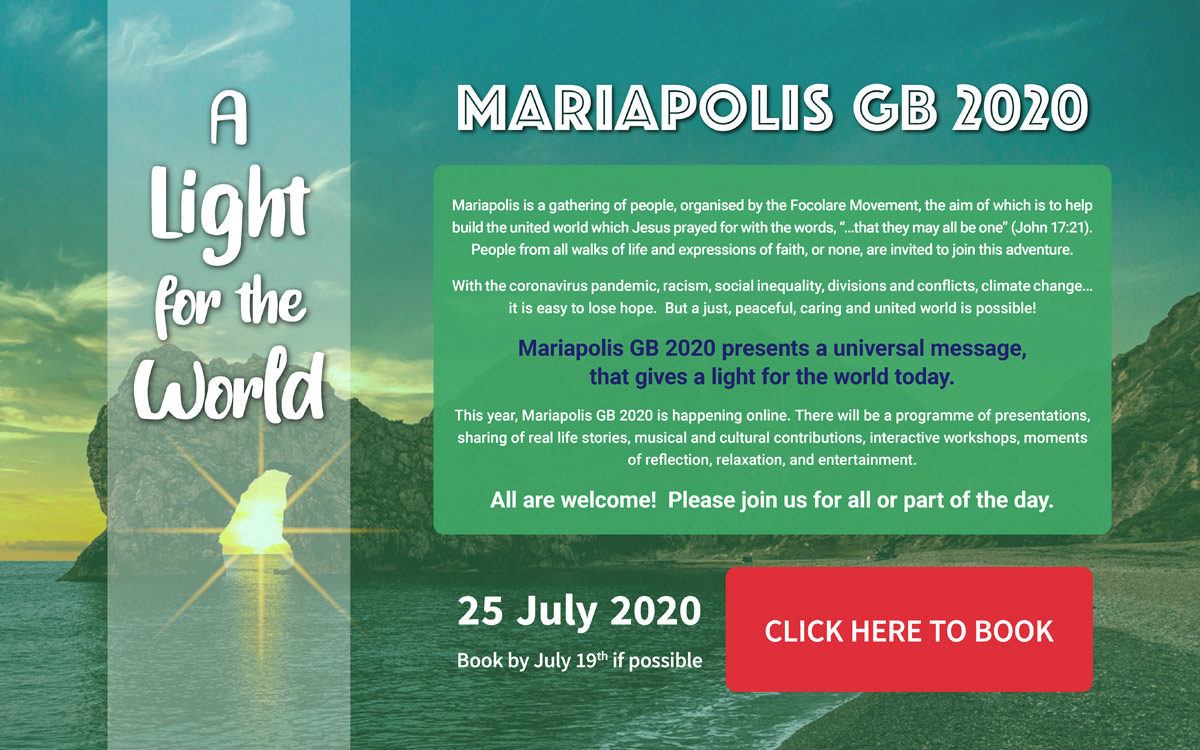 PROVISIONAL Programme*
9.00 Religious services & meditation/reflection spaces
BREAK
10.00  Welcome and Introduction: What is the Focolare?
10.20  Launchpad: A moment for all the family
10.30  Jesus among us – A light for the world: Presentation and sharing of real-life stories
11.00  BREAK
11.40  Jesus among us – A light for the world (continued)
12.10  BREAK
12.30  Towards a Culture of Unity in society today
1.15    LUNCH (with art exhibition)
3.00   Interactive workshops
3.45  BREAK (with art exhibition)
4.15  Moment of reflection
5.00  DINNER
7.30  Mariapolital: A time of relaxation and enjoyment
* During some points of the day there will be parallel activities for children and young people.