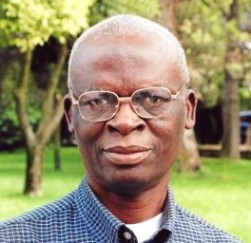 Robert Onyealusi had the DNA of a salesman. Silent and practical, he knew how to evaluate the quality of the product he had in front of him, and often the quality of a person as well. "In 1978," says Robert, "three men came into my shop in Bamenda, west Cameroon. I noticed such an enormous difference in the way they talked and acted. It impressed me and when they finished their shopping, I decided to walk them back to their lodging. That was my first contact with the Focolare Movement and from then on I received their monthly Word of Life. The focolare in Bamenda then asked me to take it to Nigeria, since, as a businessman, I traveled regularly."
Thus Robert, originally Nigerian, became a bridge between Cameroon and the nascent Focolare community in Nigeria.
In 1981 he returned to Onitsha in the land of his birth. During that period he and his wife Priscilla felt called to follow God as married focolarini. They became pillars of the Focolare community in that great and populous Western African nation.
The family life of Onyealusi became more and more focused on the daily practice of the Gospel. He wrote a letter to Chiara Lubich, explaining his strong desire to bring to others, with the help of God, the fire of Gospel love that was burning in him. Chiara reminded him of the parable of the "good tree" in the Gospel, "that produces much fruit." That image seemed to reflect his own personality well: a man of few words, but rich in daily experiences of Gospel living. Many people were impressed by Robert's shining witness of concrete and personal love for others.
In 1998, following the unexpected death of the person responsible for the Movement in Nigeria, Miguel Angel Andradas, Robert and his family moved to Igbariam to support the growing Focolare community in that city. For them it meant living the words of Jesus: "Anyone who has given up house, brothers, sisters father, mother, wife, children or fields for the love of my name, will receive a hundredfold" (see Mt 19:29). They stayed inn Igbariam four years.
In 2004 he was diagnosed with a serious illness. "He wrote to me more than once," recounts Maria Voce, the president of the Focolare Movement, "but he accepted everything from God's hands."
A few months ago, as his conditioned worsened, he said: "I'm ready for whatever He wants." Then, with the loving support of Priscilla, his four children and the Focolare, he prepared for his encounter with Jesus.
On All Saints Day many of his friends gathered around him to pray the Rosary. During the singing of the Salve Regina, Robert peacefully concluded his journey on earth.