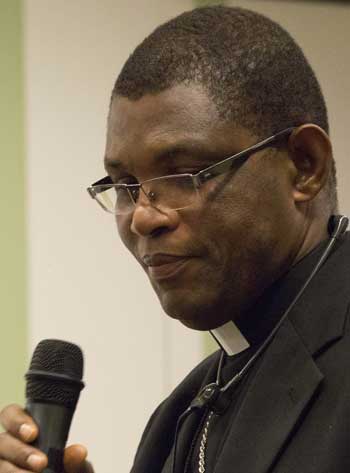 Mons. Gnéba, why did you undertake this long journey from Ivory Coast to come to Rome to meet other bishops?
«In my diocese the Focolare Movement is very well represented. I met the Movement when I was studying in Rome with Father Castellano, my professor of spiritual theology and history of contemporary spirituality. He was the one who spoke to us of the Movement, of its importance looking at its aspect of communion. And when I was elected Bishop of Man, in 2008 the year when Chiara Lubich was called by the Lord, it was an opportunity for me to learn and know better what I had learned from Castellano. I had this desire to deepen my knowledge of the movement, first as a Christian but also as a Bishop because they are present in my diocese.
Once I got information about this meeting of bishops, friends of the movement, I said why not? So, to answer the question: the first thing is a search for inner knowledge.  I studied spiritual theology, I did a doctorate in Rome. Having this theoretical knowledge now I am also in search of some experiences that can help me build my personality as a christian. It is a practical quest, not theoretical on books. Because every Christian, even a priest, or even a Bishop, must always grow on his path to follow Christ.
The second reason is pastoral. In our country we have had wars. This means division, lack of unity. As pastors we must seek ways to help people believe in unity but also to live it. In my pastoral work, I live many experiences. When I arrived after the war in my country, there was a certain fear and mistrust between Christians and Muslims, for political reasons. I had asked to go and pay a visit to the imam  but it was not accepted, saying that they had no time. And this went on for two years. The third year I asked the Vicar General to go and ask for an appointment. He didn't want to go. But I'm a determined person and  when I have something in my head, I don't give up so easily. And finally they accepted. We went and they asked us the reason for our visit. I said: "As you know here in Africa when someone arrives newly in a place, he must go to greet others. I arrived there and I wanted to greet you. " But my explanation was not enough. Then I said: "When the Pope sent me here he did not tell me: you are the Bishop of the Catholics, he said you are the Bishop of Man. This means to be the Bishop of the city, to build relationships with everyone in the diocese, so I had to come to you to introduce myself, to meet you".  "Now we understand!", they said.
During the period of Ramadan I bought 10 bags of rice and sugar for them, for the evenings when they break their fasting. And I said: "he who believes does not pray for himself, because God is not a private property. A believer, when he prays, or fasts, does good to all. I've come on behalf of all Catholic Christians to encourage you on your fasting, on your prayers". At the beginning of each new year now a group of about 20 people come to me, they bring drinks, some money, as a new year's greetings.  I realise that each person searches for unity, but it is always difficult, because you have to overcome fear. So the second aspect is pastoral: as a Bishop of Christian I must go beyond the Church to propose this message of living together,  to show that unity is a heart's desire of every human being.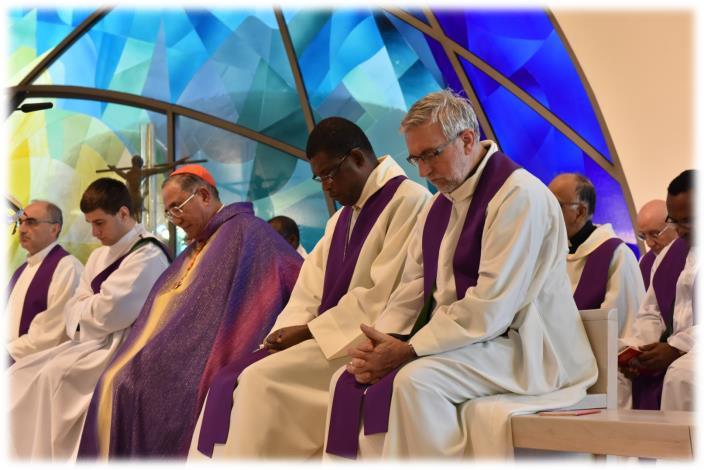 The third aspect, the universal reason. Watching television, we see that the world today is a little disturbed: Africa, Asia, Europe, the Middle East. There is this clash between people, at political and religious levels. So I had this desire, on a universal level, to come and listen to the other bishops from the world, from Syria, to see how they live this search for unity, their difficulties.
In these days, there are three bishops of the Middle East: Syria, Lebanon, Iraq. Watching TV we see Syria very far, but with these bishops we have talked, listened to one another, traded life, concrete experiences of each one. When I get back to my country I will tell my priests: I listened to the Bishop of Damascus, Aleppo! This changes the view of things! This helps me, because Jesus came to save all people. The Christian project is a universal project. Living in our cities we can sometimes forget this aspect, each one is always concerned for  his country, his life, his family, and this universal project in Christ can sometimes be reduce, be lacking in this openness. Meetings like this help me to maintain this universal dimension of God's plan in Christ ».
How do you see the Mariapolis Victoria in your diocese and what contribution do they bring?  
«I see it as a point of reference for this experience of unity, because the life of unity isn't just intellectual.  It is a reference, because it gives us the opportunity to live the experience. Jesus became incarnate. Incarnation is a living experience. So this Mariapolis is a place where the experience of unity can be lived concretely, as men, as women, even with our limits, our fears, our difficulties, but it is an experience as Christians within the Church. But also as a church in its relationship with the society. Now Pope Francis helps us as a church to overcome our fear of the society, because sometimes we see only the negative side of the society.
The Mariapolis Victoria, helps us, gives us the courage to not be afraid of the society, because as Christians we are servants of society, eventhough sometimes somethings do not fit in, according to the Gospel and our faith. Then I see this Mariapolis as the service which the Church can offer to the society in which we live, because the Church has to be incarnated, it is not out of the world, it is at the service of the society.
I see this place as a reference to a living experience of unity and as a service to society».