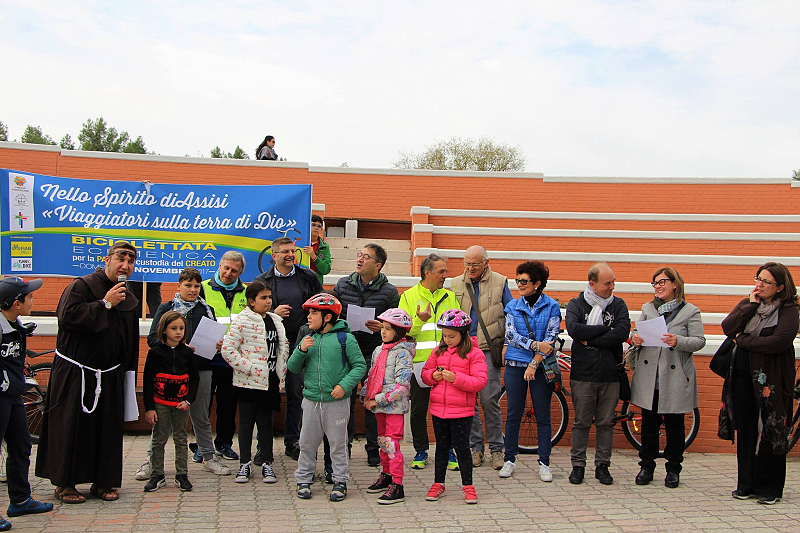 In Foggia, a commercial city in southern Italy an amazing flow of bikes crossing the city's roads aroused the curiosity of passersby. Many citizens, also due to the sunny day, were on the road on their traditional Sunday outing, while the ladies catering to the feast day lunch watched from the balconies. Family bikes equipped with children's chairs, tandems with blind people onboard as second paddlers, two wheels equipped with mikes, loudspeakers and banners, bikes of all shapes and sizes, a long trail of hard hats and helmets and a joyful bell: this was the ecumenical biking event organised by the Ecumenical Council of Foggia together with the Franciscans of the parish of Gesù e Maria, and the Group of Lay Associations joined by the Focolare Movement, the Fanny Bike Association and the Bike-lovers' Association, on the occasion of the anniversary of the Spirit of Assisi and the Day for the Protection of Creation.
The initiative was the occasion for the city of the Puglia region, together with men of good will and the faithful of various religious confessions, to reflect on the importance of protecting creation, the gift of God entrusted to mankind for the good of all, and raise the awareness of citizens in assuming more ecological lifestyles starting from their own daily lives, and make the municipal administration commit to undertake political decisions that would allow the healing of the city, making it more beautiful, liveable and less polluted.
The bike itinerary started symbolically from the Square where the Archbishop's Curia is situated, with the delivery to the Mayor of a pact made between citizens and the administration, containing the mutual commitment. According to the competences of each, inspiring motifs were created for the event, with the route that made stopovers at the places of worship of all the Christian confessions existing on the territory, which adhered to the initiative: the Church of San Domenico for the Greek Orthodox community, the Church of Gesù e Maria for the Romanian Orthodox community, the ADI Evangelical Church, and the Waldensian Church. The event ended up with a brief moment of ecumenical prayer at the San Felice Park, the green lung and meeting place of the city.