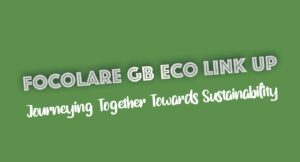 Well,  one way forward has been the production of an Eco-Plan for the Focolare from an international team. In becoming 'life' any plan has to be shared and a part of what we do, day to day.
To take this ahead, all are welcome to an Eco link Up session on:
 Tuesday 5th July – 7.30pm to 9.00pm
There will be the chance to catch up with the talks on climate change issues and the urgency for us all to take action. Nino Puglisi, one of the Focolare team who prepared the Eco-Plan, will give some background to why this was developed. We will also have some impressions from the Halki V summit meeting in Turkey, attended by Margaret Karram, President of the Focolare Movement.
Local experiences will be given by Mike from London and Eileen from Scotland and from some of those involved in 'Dare to Care' earlier this year.
There will be break-out groups to share ideas and look at how we can go ahead together in our communities here in GB (although others from elsewhere will of course be welcome to join us!) If you are interested in joining, then it would be helpful to know – and you can drop an e-mail to: Williams-hartwell4@hotmail.co.uk
However, it is also possible to just join on the day through this zoom link:
Join Zoom Meeting:
https://us02web.zoom.us/j/83560971591?pwd=cS9haGd4K2NUUHd4K1I4Y3REaWpVZz09
Meeting ID: 835 6097 1591
Passcode: 070518
Looking forward to seeing you there!
the Focolare GB Integral Ecology Group