"Meet new people, learn more about my faith, learn from other faiths and have fun while doing so!" – this is one of the reasons to participate, given by a young person who will be attending the "Scottish Interfaith Youth Camp 2018".
The weekend is organised by Glasgow Ahlulbayt Association, Ahl Al Bait Society Scotland and the Focolare Movement, supported by the Muslim Council for Scotland and the Catholic Bishops' Conference's Committee for Interreligious Dialogue. It is open to Muslim and Christian young people (16+), and will be held the Scottish Outdoor Education Centre, Dounans, Aberfoyle, on 7th-9th September 2018.
This will be a unique experience to discover our shared values and that we are brothers and sisters of the one God, and through our working together we can promote peace.  The programme will include: talks and moments of dialogue with our two speakers: Dr. Mohammad Ali Shomali (Director of the Islamic Centre of England and of the International Institute of Islamic Studies in Qum, Iran) and Dr. Lorna Gold (Trocaire's Head of Policy and Advocacy), both renowned International speakers; group activities, a camp-fire and outdoor activities such as 'Go Ape'.
Cost of the weekend: £90 full board (including transport by coach from Glasgow) plus £28 for the optional 'Go Ape' outdoor activity.
For information and bookings contact Ahmed: 07751 655611 / Claudia: 07443 873717.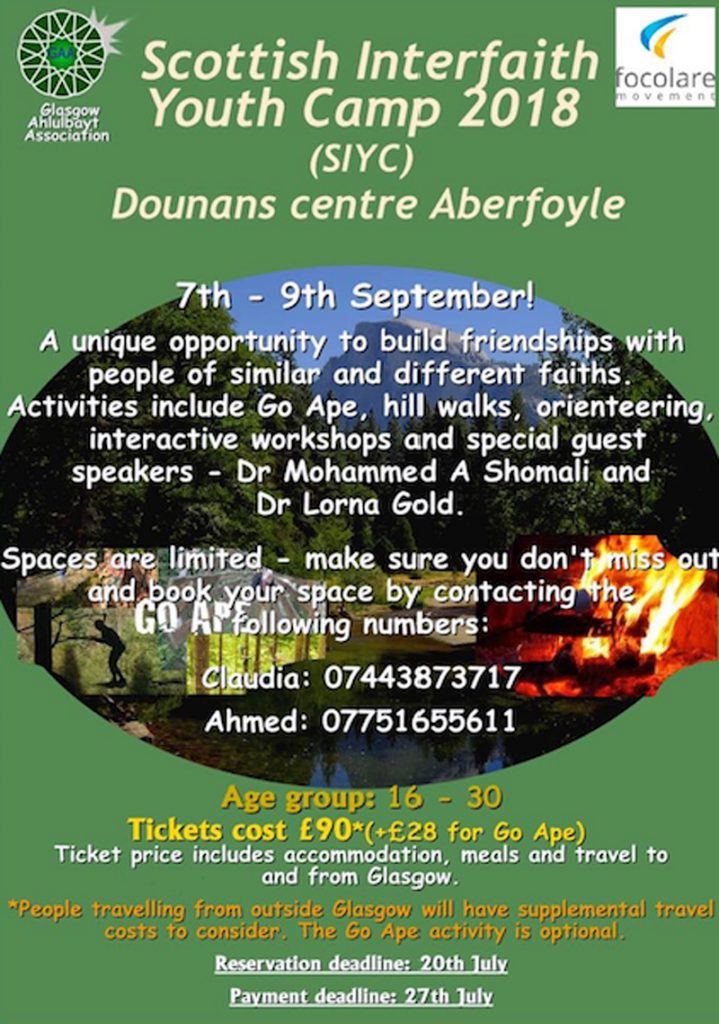 Scottish Interfaith Youth Camp 2018
Christian & Muslim young people

Dounans Centre Aberfoyle
7th-9th September 2018
A unique opportunity to build friendships with people of similar and different faiths.
Activities include Go Ape, hill walks, orienteering, interactive workshops and special guest speakers
Dr Mohammed A Shomali and Dr Lorna Gold.
Spaces are limited – make sure you don't miss out and book your space by contacting the following numbers:
Claudia: 07443873717 or Ahmed: 07751655611.