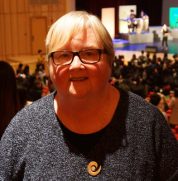 What are the strongest memories of your last visit to Britain with Gen Verde?
The strongest memories were also the most simple – like the incredibly warm welcome and sense of family that we experienced in the nine weeks we were in Britain. We visited 12 different cities in Scotland, England and Wales and just mentioning the name of each one of those places brings up a wealth of emotion because of the people we met with there. It was also a tour that had a particularly strong dimension in terms of dialogue – with Christians from different denominations and with believers from other faith traditions. We're incredibly excited about coming back.
It's tempting to see the world through the perspective of the concerns of one's own country. Gen Verde visit many countries and its members are drawn from across the globe. What have young people around the world told you of their hopes and fears in recent times?
Since we were last in Britain we have toured extensively in Europe and also in Asia. We have worked with tens of thousands of young people and whilst every place is very different, there is no doubt that there is a common theme. Alongside the great giftedness and generosity and spontaneity of youth, what we have experienced in many is a lack of hope. They have spoken of their difficulty in believing that things can be different, that they feel trapped in situations not of their making. The fact that many young people today have no prospect of work, despite having had a good education, is an example of this. Generally speaking, young people reject a worldview dictated by the selfishness and corruption of those who really could make a difference but who chose not to. On the positive side of things, increasingly they are making their voices heard and it is important that they are listened to.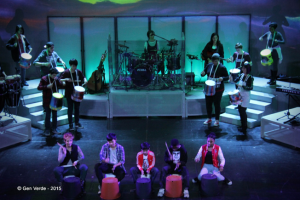 What does Gen Verde have to offer the young people of Britain today?
What Gen Verde would like to offer is an experience. At the Genfest this summer the theme was building relationships that go 'beyond all borders' – which means a non-judgemental acceptance of all and valuing all people and cultures and beliefs. How does that work out in everyday life? That is what Gen Verde hopes to offer during the workshop programmes.
Young people are looking for people who can speak with conviction because they have first and foremost lived what they are saying. Gen Verde certainly can do that because it is our everyday experience – 20 women from 14 countries living and working together is already a witness to 'beyond all borders'.  
How would you describe the musical and spiritual journey of the group's work between the last album and making the new one?
That is something we could talk about for hours! But I leave you to discover the golden thread running between the albums – both musically and spiritually. The journey begun in September 2015 with 'On the Other Side' continues and goes deeper and further on with the album 'From the Inside Outside'. The songs in both albums are a fruit of either our own experiences or of those who inspire us. Musically the introduction of a more electronic sound reflects the change in the music young people listen to today as opposed to two or three years ago. Check out the album on Spotify or you can download it from www.genverde.it It is well worth a listen!
What are your hopes for this tour?
Our hope, at the end of our time here, is that the young people we meet will be able to say, if things were different while we were together in those five days, then it can be different for me when I go home or to school or university. We can make a difference and I know it begins with me. That they will find new hope.
By the way – the release of the albums 'On the Other Side' (2015) and 'From the Inside Outside' (2018) and the concerts of the same name both coincided with a visit to Britain!
To find out more about the Gen Verde tour in Britain in November 2018 click/tap here
---